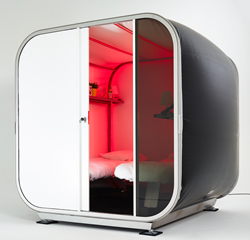 In recent years, the company recognized a growing need for high-end, branded, temporary structures that can provide protection from the elements and deliver the WOW factor.
Dallas, Texas (PRWEB) April 27, 2017
As a full-service provider of products and services for live events, The Trade Group helps brands plan and execute events both indoors and outdoors. In recent years, the company recognized a growing need for high-end, branded, temporary structures that can provide protection from the elements and deliver the WOW factor.
Tents (the traditional solution) come up short when it comes to comfort, durability, convenience and branding. They also miss the mark for brands that want to provide an upscale vibe and experience that can be installed and used for days, months or years.
According to Christina Moore, New Product Development Specialist at The Trade Group, "Our clients were asking for high-end, temporary structures that could be set up in a short period of time with features like lighting, solid flooring, climate control, electrical hookups and charging stations. Our new AirClad series of temporary, architectural structures fulfill these needs and more."
The AirClad semi-permanent buildings are constructed of sturdy aluminum and feature a durable, inflatable, customizable vinyl covering. Smaller styles set up quickly –30 minutes on average. Several sizes and styles are available, including:

Snoozy: An 8'x8' foot sleeper unit equipped with beds, lighting and electrical.
OiO: Open space that can be fitted to suit (office space, meeting room, entertainment space, retail, etc.).
YumYum: Structure with an awning, designed to accommodate sales of food and merchandise.
XPO: Expansive space to showcase products and services, entertain large groups and more. Widths of 12' to 40' available.
XIP: A two-story version the XPO. Offers even more space and height with a second level.
xDek: Fits above the XPO, providing an open air, outdoor space with a rooftop, patio feel.
"What's nice about the AirClad series is our design team can customize each structure so it truly looks like an extension of the client's brand. We can recommend colors, graphics, signage, lighting and accessories that give the space the same look and feel of our client's traditional branded spaces and experiences," Moore says.
The Trade Group's AirClad buildings can be designed to suit a wide range of outdoor events and trade shows, as well as provide temporary architectural structures for traveling shops or temporary building needs for growing companies. From luxury lodging accommodations, temporary office spaces, pop-up food and retail shops and high-impact, branded spaces, Moore expects to see AirClad semi-permanent structures used in a variety of fun applications.
As she explains, "A premium brand could use AirClad buildings to make a big impression at those large, outdoor musical events that span several days, like Coachella. They could entertain in an XPO with an xDek and provide premium sleeping accommodations for VIPs by setting up Snoozy villages nearby."
Whether you need a semi-permanent building for a short-term event or are looking for a long-term solution in a retail space (depending on the application, AirClad structures can last for several years) The Trade Group's AirClad series can be designed to meet your needs.
To learn more about The Trade Group's AirClad series of modern, semi-permanent, architectural structures – available for rental or purchase – call 800-343-2005 to speak with a friendly sales representative.
About The Trade Group:
The Trade Group is a full-service, award-winning provider of products and services for trade shows, corporate events, retail environments and an endless array of face-to-face experiences. The organization helps clients share their unique stories through a comprehensive suite of solutions that includes: exhibit design and fabrication, graphic design and production, exhibit management, digital applications, video production, exhibit accessories, strategic marketing and more.