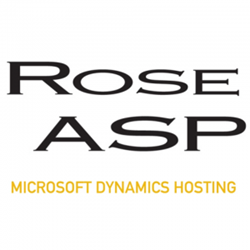 That's why we at RoseASP are truly excited to announce our Platinum Sponsorship and why we're excited to attend Summit 2017
San Diego, CA (PRWEB) April 27, 2017
RoseASP, a full-service provider of private hosting and Azure cloud for Microsoft Dynamics AX, GP, NAV, SL and CRM, will showcase its latest cloud offerings and share cloud expertise with Dynamics users as a Platinum Sponsor of Microsoft Dynamics GP User Group Summit Conference 2017, RoseASP announced today.
"UG Summit is unique because it is a great platform for Dynamics Users to benefit from the expertise of their peers as well as Dynamics professionals in an authentic community-driven environment," said Michael Bone, Chief Revenue Officer for RoseASP. "That's why we at RoseASP are truly excited to announce our Platinum Sponsorship and why we're excited to attend Summit 2017. We're looking forward to meeting face-to-face with Customers and Partners in one place to discuss Dynamics cloud opportunities, benefits and concerns."
As a platinum sponsor, RoseASP will be a session presenter in addition to connecting with the community on the expo floor at Booth #845. You can learn more about full-service cloud hosting for Dynamics on this Microsoft Dynamics Cloud Hosting Page.
Microsoft Dynamics User Group Summit is a premier annual conference for Microsoft Dynamics Customers to gain special access to Microsoft leadership and valuable peer-to-peer knowledge exchange. The conference delivers electric keynotes, forward-thinking product roadmaps, focused learning and effective networking opportunities (October 10-13, 2017 Gaylord Opryland Resort in Nashville, TN). You can schedule a meeting with RoseASP at Summit here, or learn more about Microsoft Dynamics Great Plains Software Hosting.
About RoseASP
RoseASP is a full-service cloud provider for audit-ready Microsoft Dynamics AX, GP, NAV, SL and CRM, offering flexible options from public, private and hybrid cloud environments including Azure Cloud. We specialize in FDA, SOX, and HIPAA (HITECH), enabling highly regulated businesses to leverage cloud technology to manage the growing complexity of corporate IT requirements while maintaining governance, security and compliance. For more information about RoseASP, visit RoseASP.com.