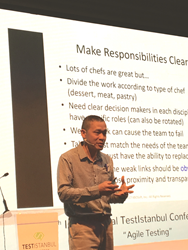 These seven habits continually 'sharpen the saw' and root out problems one by one.
(PRWEB) April 27, 2017
Will Turkey be the next wellspring of quality assurance innovation? The ancient city of Istanbul, the country's economic, cultural and historic center, is home to TestIstanbul, an international tech conference that focuses on quality assurance and testing. TestInstanbul brings together the brightest entrepreneurs and engineers in the world to share what they have learned about software testing practices that lead to a better product released on time.
Philip Lew, XBOSoft founder and CEO, delivered the closing keynote presentation for the 2017 conference on April 25. A packed audience heard Lew's signature speech: "The 7 Habits of Highly Effective Agile Testing." Lew has been influenced in his career and life by Stephen Covey's landmark nonfiction work, "The Seven Habits of Highly Effective People," and has modeled his remarks on Covey's work.
The agile software development process offers many advantages to developers. Its quick iterations lead to shorter feedback loops and a more team-oriented process. It also reduces work in progress and therefore speeds higher-quality products out the door faster. The downside is that in the development team's haste to push out product, testing software before shipping it can become an afterthought jammed into the final hours. The result is bug-filled software that doesn't perform up to customer expectations.
During his career as a quality assurance professional, Lew was drawn to the agile software development process because of the unique challenges it presents to testers. Since XBOSoft's founding in 2006, the company has been supporting clients in migrating toward agile practices and optimizing their software QA processes.
His "7 Habits of Highly Effective Agile Testing" — habits XBOSoft testers all must master — are as follows:
Focus on Efficiency and Effectiveness
Treat the User as King or Queen
Maintain an Improvement State of Mind
Be Agile, Then Do Agile
Think Tasks, Not Roles
Focus on the Customer
Think Long Term
"These seven habits have evolved over the years as we've worked with clients who have difficulties maintaining a high level of quality and think that using an agile development will solve all their problems," Lew told his TestIstanbul audience. "Well, it can solve some problems, but if poorly implemented, it can cause many others. I've been able to boil it down to these seven habits as a way to continually 'sharpen the saw' and root out problems one by one."
XBOSoft, as Lew noted in his speech, has pinpointed eight primary reasons why the agile process can fail to produce a software product that meets customer requirements:
Process Inconsistency: 19 percent of the time
Agile Doing, Not Being: 18 percent
AgileFall: 18 percent
Resistance to Change: 13 percent
Requirements Churn: 10 percent
Retrospectives Not Valuable: 8 percent
Lack of Customer/User Experience: 8 percent
Lack of Test Automation: 6 percent
"It's important to follow Covey's first habit of being proactive, and that means understanding the sources of failure," Lew told his audience. "The fact that process inconsistency ranks No. 1 reveals that many development teams have a lot of work to do to improve their overall development process. Creating great software isn't just about getting the bugs out of the product. It's about getting the kinks and snarls out of the way as the agile team develops the product."
Click here to view the slideshow of Lew's presentation.
Headquartered in San Francisco, XBOSoft has offices in the U.S. and China. Services include onsite and virtual consulting designed to deliver quality-assurance assessments and advice on best practices.