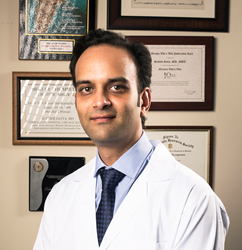 "It is an honor to have the opportunity to work with the Datta Endoscopic team."
Manhattan New york (PRWEB) April 28, 2017
Datta Endoscopic Back Surgery and Pain center is pleased to announce that Aditya Patel M.D. has joined the revolutionary endoscopic practice under Dr. Datta. Patel is a Board Certified Anesthesiologist, with additional subspecialty fellowship training and board certification in Interventional Pain Medicine. The patented, revolutionary eDiscSculpt Technique created and used by Datta Endoscopic is unlike traditional back surgery and other minimally invasive procedures because the disc is never completely removed and metal screws or plates are never inserted.
"We are experiencing tremendous growth in our practice and due to the increasing patient demand across our tri-state locations in New Jersey, Upstate New York, Manhattan, Bronx and Long Island, we are committed to expanding our team," Dr. Datta explains. "Dr. Patel is a great addition to our office, and his unique and highly specialized training in Anesthesiology and Pain Medicine will be a wonderful addition to our team." Dr. Patel has received extensive training and will be assisting the practice as a Interventional Pain Management Specialist.
Dr. Patel completed his undergraduate training at the University of California, San Diego. There he earned a Bachelor of Science degree in Animal Physiology and Neuroscience. After completing his undergraduate training, Dr. Patel was accepted to the St. George's University School of Medicine in Grenada West Indies. He graduated Magna Cum Laude and earned his Medical Degree in 2006.
Upon completion of his Medical School Education, Dr. Patel pursued a Research Fellowship at Washington University in St. Louis. In 2007, Dr. Patel began his Residency training in Anesthesiology where he served as Chief Resident in Anesthesiology during his final year.
After his residency training, Dr. Patel began his fellowship training in Pain Medicine at the Mount Sinai School of Medicine. During his time there, he was fortunate to learn from a diverse group of leading physicians in the field of Pain Medicine, as well as with leaders in Hospice care, Neurology, Psychiatry, and Physical Medicine and Rehabilitation. While at Mount Sinai, Dr. Patel was trained in many of the most innovative and advanced therapies established in the field of Pain Medicine.
Subsequently, Dr. Patel began working as an Anesthesiologist at the Mount Sinai Brooklyn Hospital in Midwood Brooklyn.
About Datta Endoscopic Back Surgery and Pain Center
The practice utilizes the most advanced minimally invasive techniques in Spine Care and Pain Management to provide the best outcomes with minimal downtime. Special areas of expertise are in Laser Disc Surgery, Spinal Endoscopy and Fusion Surgery Alternatives.
Datta Endoscopic specializes in the eDiscSculpt Technique, a procedure that serves as an alternative to open back surgery, with "sculpting" of the disc to treat herniated or bulging discs in the neck or back.
MEDIA CONTACT:
GLO CREATIVE PR
GABRIELE SHELDON
786-623-3911
Gabriele(at)GloCreative(dot)com