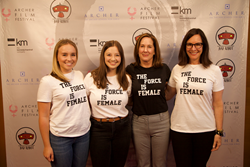 Los Angeles, CA (PRWEB) April 26, 2017
The Archer School for Girls hosted its sixth annual Archer Film Festival, empowering female filmmakers and featuring Lucasfilm President Kathleen Kennedy as the keynote speaker. Festival organizers received over 800 student-produced film submissions from around the world. Celebrities, media, and the public viewed screenings of finalist films at The Writers Guild Theater in Culver City after a pink carpet reception. Event sponsors included The Kennedy/Marshall Company, Bad Robot Productions, Amblin Partners, The Mark Gordon Company, Mandeville Films, CBS, Comcast NBCUniversal, and Relativity School.
Eight-time Academy Award ®-nominated producer, Kathleen Kennedy, is one of the most successful and respected filmmakers and executives in the industry today. Kennedy opened the event with a keynote and interview led by students from Archer's Institute for Film and Video Literacy program.
"Gender equality has been slow in coming but there has definitely been progress. It is now up to women in leadership positions to bring more women along," Kennedy said. "The stories we tell must reflect the society we live in and one of the best ways to do that is to have those in charge mentor and bring women and minorities into the business, both in front of and behind the cameras. I'm proud to support Archer's Film Festival and vision to build the next generation of female leadership in the industry."
The Archer Film Festival is a student-run and student-led event. Archer's Film students pitched the Festival to bring Kennedy and panelists including producer Betsy Beers on board. "Although there were many reasons we were so thrilled to involve Kathleen Kennedy, I think what stands out most for me is how she has modeled determination and grit for other female filmmakers," Film Festival co-chair and Archer senior Billie Wakeham said. "She is a true leader in the entertainment industry who has made immense progress for women in film. She has blazed a path that I hope aspiring female filmmakers everywhere feel inspired to follow."
The second day of the Festival on Thursday, April 27 will be held on the Archer campus and feature a master class by producer Betsy Beers (Grey's Anatomy, Scandal) along with a moderated panel of industry experts speaking on "Women and Film in TV". Panelists include director and writer Millicent Shelton (Supergirl, Scandal, Empire), Virginia Katz (Beauty and the Beast, Twilight: Breaking Dawn), producer Gail Mutrux (The Danish Girl, Kinsey), Lindsey Springer, President of Carlton Cuse Productions (Bates Motel, The Strain), and more. Panelists will address questions from students after discussing topics in filmmaking and their firsthand experiences related to women in film.
There still remains a dearth of women in film. According to a 2016 report from the Geena Davis Institute on Gender in Media, only 17% of the top grossing films had a female lead, even though films led by women grossed 15.8% more on average than films led by men. Two males appear onscreen in speaking roles to every one female, and female characters fill only 28.4% of speaking roles in film. In films with a male lead, male characters appeared and spoke nearly three times more often than female characters.
The Archer Film Festival's mission is to bridge that divide by empowering and highlighting young filmmakers who share the goal of increasing the number of women in the film and television industry, and to participate in the conversation about women's representation onscreen. Throughout the development of the Festival, student filmmakers are given access to insider industry knowledge, further strengthening their foundation to effectively pursue careers in the field.
"The Archer Film Festival was created to encourage our student filmmakers, give them hands-on experience in the industry, and to help achieve gender parity in front of and behind the camera," Head of School Elizabeth English said. "Archer students have run with this idea, making the Festival their own and bringing exposure and attention to a problem that affects the way young girls see themselves and their place in the world."
# # #
About The Archer School for Girls
Founded in 1995, The Archer School for Girls is a contemporary girls' school, grades 6 through 12, devoted to educating and empowering girls for leadership in the 21st century. We take a research-based approach to teaching and learning in an environment that explores and refines the ways girls learn best. Archer has always been committed to reflecting the face of greater Los Angeles. Forty-one percent of the student body are students of color and come from 75 different zip codes and 144 different feeder schools. We award nearly $3.6 million in financial aid annually. Above all, Archer is known for its highly innovative programs and joyful culture. For more information, follow us on Facebook or Twitter @ArcherSchool or visit our website http://www.archer.org.