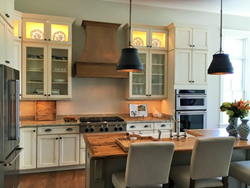 These eight tips will help home buyers in the process of choosing a custom home builder make an informed decision.
Bluffton, SC (PRWEB) April 27, 2017
Marian Schaffer, Principal and Founder of Southeast Discovery, a real estate consulting firm specializing in guiding Baby Boomers with their real estate needs in the niche markets of retirement relocation and second homes in the Southeast region, recently shared eight tips for choosing a custom home builder.
"Many of our clients who are looking to relocate at retirement would like to purchase a new home, as opposed to buying an existing one," said Schaffer. "This may likely be the last home they buy, and they want it to accommodate the way they live. For this reason, they're interested in purchasing a home site and choosing a custom home builder to build on the site they select."
According to Schaffer, these eight tips will help home buyers make an informed decision when choosing a custom home builder:
#1: See the builder's work. "Every builder should be able to take home buyers to other homes they've built," Schaffer said. "If they've cultivated good relationships with their past clients, these clients will welcome current prospective clients through their home to see both the exterior and interior of a completed home."
#2: Check their financial statements. "You want to see proof that a builder is financially sound to build your home; any quality builder will be able to provide a financial statement," Schaffer shared.
#3: Verify they have a good reputation locally. "Good news travels fast – and so does bad news. If you're looking to purchase in a newer community, there is likely home construction taking place," said Schaffer. "Ask the real estate sales agents you're working with and ask residents you meet - who the builders are in the area that have solid reputations."
#4: Ask for a copy of their contract to review. "Any reputable builder will be able to provide a copy of the contract they use when signing on a new client. A builder who has a steady flow of business is going to be able to produce their standard contract to review. If they don't have a standard contract, that should be viewed as suspect" according to Schaffer.
#5: Find out how they make money building your home. "It's important to find out if the builder does a cost-plus contract, a fixed-price contract, or another structure, and educate yourself on the difference between each type of contract and which would work best for you," Schaffer said.
#6: Find out who they use for subcontractors. "Do they have a long-term relationship with their subcontractors? Good subcontractors are key to any quality home build project," Schaffer said.
#7: Find out which vendors builders use, and how much flexibility there is when choosing finishes. "Home buyers should ask if the builder offers flexibility when it comes to picking out finishes such as cabinetry, lighting, appliances, flooring, and plumbing, etc.," Schaffer said. "Are they able to choose
these items wherever they want, or do they have to work specifically with the builders' vendors only?"
#8: Find out if the builder offers an interior designer as part of the build package. "Many builders offer interior and exterior design consultation as part of the build package. It can be a big help to have a design professional to collaborate with when choosing cabinets, flooring, paint colors and other elements, so the home comes together in a tasteful way," said Schaffer.
For those relocating to the Southeast who want information on how and where to start their search, Southeast Discovery assists folks from all over the U.S. streamline the process so they can find the right area and community to call home. Complete the firm's complimentary online questionnaire here to receive feedback on the best areas and communities in the Southeast for retirement and relocation.
About Southeast Discovery
Since 2004, Southeast Discovery has been a trusted resource for candid information and insight on communities, developments, and general real estate in the Southeast. Through its highly-ranked web portal, newsletter and blog and its one-on-one work with clients, Southeast Discovery helps buyers actively looking for a retirement or second home in the Southeast navigate the process of identifying the right area and community for their needs. To learn more, visit http://www.southeastdiscovery.com/