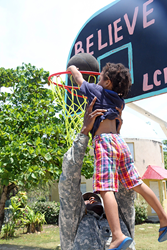 we felt it was high time to recognise and reward these unsung heroes
San Ignacio, Belize (PRWEB) April 28, 2017
Military personnel from the United States and other nations have been quietly helping the people of Belize, and that's something one Belizean eco-resort wants to see better recognised and appreciated.
The Lodge at Chaa Creek, one of the tiny country's most recognised jungle lodges and a highly awarded, family owned and operated eco-resort, recently issued an invitation to all armed forces members in Belize to enjoy a heavily discounted stay under a "Appreciation Vacation" initiative, according to owners Mick and Lucy Fleming.
"Many people don't realise the amount of good works that are being done in Belize every day by members of various armed services, and with a new U.S. humanitarian exercise now underway since March 2017, we felt it was high time to recognise and reward these unsung heroes. It's a small token of our appreciation, but we hope it makes their stay in Belize more comfortable and memorable.
"Being a family owned and operated lodge, we also hope to see them enjoy Chaa Creek with their families and partners," Lucy Fleming said.
Ms Fleming said as of April 2017, service people stationed in Belize will receive a fifty percent discount off accommodation, and twenty percent off meals, with complimentary use of canoes and the activities usually included in room rates.
"We want to show service people stationed here the Belize that tourists and visitors find so appealing – with eco-luxe accommodations, fine dining, quality amenities and the wide range of activities that gave us the reputation as Belize's 'Destination Within a Destination'," she said.
Ms Fleming had particular praise for service members involved in operation "Beyond the Horizon 2017", which sees US military personnel carrying out a range of civic and humanitarian exercises. Troops specialising in engineering, construction, and health care are working in several communities while offering training and building relationships with their Belizean counterparts.
"Beyond the Horizon" began in 2008 with a joint military exercise as part of the "proud legacy of humanitarian civic assistance exercise programs in the region," according to the U.S. Southern Command's website. The 2017 exercise began on March 25, with a range of projects approved and evaluated by The Government of Belize, US Department of State and Department of Defense.
The current exercise provides free medical and dental services while building medical and educational facilities in communities across Belize. Valued at USD $10 million, the projects are scheduled for completion by the second week of June 2017.
Along with US forces, Dutch and British military personnel are also engaged in military training with the Belize Defence Force, with British Commando Royal Marines conducting jungle training in Belize's vast rainforests.
Ms Fleming said all military personnel in Belize are invited to take advantage of the Chaa Creek "Appreciation Vacation" discounts.
"Chaa Creek has a nationwide network of colleagues and organises tours throughout Belize, so we always have an ear to the ground as far as what's happening, and after hearing about the good works being done in local communities felt the need to do something to express our gratitude. The 'Appreciation Vacations' initiative is one way of doing that," she said.
The Flemings said Chaa Creek has a long history of hosting service personnel serving in Belize.
"When we were first starting out, transitioning from a small family farm to building Belize's first eco-resort, we received invaluable help from the British forces stationed here. In return, we'd invite them out to share what was then our meagre hospitality, which consisted of simple thatched roof cabins and plates of rice and beans and chicken or whatever game meat we had. Of course, the English beer and whiskey they brought was a rare treat for us, so all in all everyone had a great time and a tradition was born.
Ms Fleming said she also hopes the discounts make it possible for service people to spend time with their families and partners at Chaa Creek.
"It's something that we hope to see become an established part of their experience here. It fits in with the Belizean philosophy of 'hand wash hand', Ms Fleming said.
The Lodge at Chaa Creek is a multi-award winning eco resort set within a 400-acre private nature reserve along the banks of the Macal River in Belize. It was recognised by National Geographic with first place honours at the 2017 World Legacy Awards held in Berlin.
ENDS