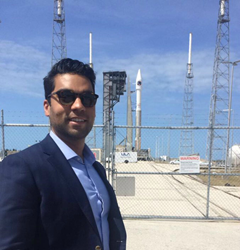 This is more evidence that this amazing team will push any limit--on this planet and beyond--to improve the state of cancer care.
Bethesda, MD (PRWEB) April 27, 2017
Oncolinx, a spin-out of the Center for Advancing Innovation (CAI) and a winner of the 43North Startup Competition, has truly taken their cancer research out of this world. On April 22, 2017, an Orbital ATK Cygnus spacecraft delivered Oncolinx's innovative cancer experiments from Cape Canaveral to the International Space Station's (ISS) U.S. National Laboratory, managed by the Center for the Advancement of Science in Space (CASIS). As reported by NASA in March 2017, Oncolinx's project will evaluate the efficacy and metabolism of their proprietary antibody-drug conjugates (ADCs) in a microgravity environment, wherein cancer cells grow in three-dimensional tumor models that mimic physiological forms within the human body, and are more difficult to create in laboratories on Earth.
"We're excited and privileged that we are able to do important cancer research aboard the International Space Station. This is more evidence that this amazing team will push any limit--on this planet and beyond--to improve the state of cancer care," said Oncolinx Co-Founder and CEO Sourav Sinha. "We are very fortunate and grateful to be working with such a great team from NASA, United Launch Alliance, and CASIS to make this happen."
Oncolinx's novel cancer therapy consists of a biologically active drug, called Azonafide, which is attached to a select monoclonal antibody with the ability to specifically target malignant cancer cells. Due to its selective targeting of cancer cells, Oncolinx's therapy can avoid adverse side effects of traditional chemotherapy, which also damages healthy cells. The research, which was planned and executed over the last 2 years, aims to accelerate the transfer of targeted cancer therapies from basic research laboratories into the clinic.
The countdown to launch for Oncolinx began when their co-founders, Sourav Sinha and Riley Ennis, entered CAI's inaugural competition, the Breast Cancer Startup Challenge (BCSC) in 2013. The BCSC was generously supported by the Avon Foundation for Women and the National Cancer Institute (NCI), part of the National Institutes of Health (NIH). As a winner of the BCSC, Oncolinx won the opportunity to execute an exclusive license, granted by the NIH in 2015, to commercialize Azonafide. Since being named a winner of the BCSC, Oncolinx has accumulated numerous awards from business plan competitions, grants, scholarships, accelerators, and pharma partnerships. In November 2016, Oncolinx was thrust into the spotlight again, as they were named the $1 million grand prize winner of the 43North Startup Competition in Buffalo, New York.
Sourav Sinha also commented, "Oncolinx would not be where we are today had it not been for the CAI's vision and expertise in helping our team get over any hurdle or obstacle. CAI's Founder and CEO, Rosemarie Truman, made key introductions, refined pitches, made important resources accessible, and recruited some of the most prominent industry partners to ensure that our team was given an opportunity to succeed. Going forward, we should all look forward to the many great startups spun out of similar CAI startup challenges that will make an impact on human health and other diverse fields."
Rosemarie Truman, Founder and CEO of CAI, said, "Oncolinx's platform technology is a prime example of the commercially viable inventions available for licensing that can make a direct impact on public health in the much-needed area of cancer therapy. We are especially proud of Sourav Sinha, Oncolinx's leader, CAI's homegrown talent which is on the cusp of the major leagues."
About Oncolinx
Oncolinx is developing the next generation of antibody-drug conjugates (ADCs): powerful, targeted cancer therapies that are more effective and have dramatically fewer side effects than current methods of cancer treatment. These therapies can be targeted to nearly any type of cancer and are rapidly becoming the state-of-the-art in cancer treatment. Drawing on the scientific innovation of the National Cancer Institute and the world's leading biotechs and life sciences companies, Oncolinx is redefining the paradigm of cancer therapy. For additional information about Oncolinx, please visit http://www.oncolinx.com
About the Center for Advancing Innovation
The Center for Advancing Innovation (CAI) is a global public-private partnership, non-profit focused on creating a virtuous circle of innovation and driving growth breakthroughs through novel, creative paradigms and models. CAI's mission is to accelerate and increase the volume of research commercialization in support of high growth business to ignite entrepreneurship, bolster the global economy, and maximize the commercial and knowledge-based potential of promising inventions. CAI's award-winning challenge-based accelerator, rigorous evidence-based due diligence, and capital-efficient lean management models serve to hyper-accelerate "gazelle" high-performing startups for outsized investor returns. Through its NIH-sponsored Breast Cancer Startup Challenge, Neuro Startup Challenge, and Nanotechnology Startup Challenge in Cancer competitions, as well as its NASA-supported SPACE RACE startup challenge, CAI has launched 58 startups and trained more than 2000 entrepreneurs. For additional information about CAI, please visit http://www.thecenterforadvancinginnovation.org.