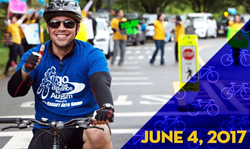 "The PhotoSesh Concierge, bringing attention to detail and boundless creativity are the reason why they have become the go-to platform for event photography," says Go the Distance for Autism representative Genna Toye
Paramus, NJ (PRWEB) April 27, 2017
PhotoSesh, America's leading on-demand photographer app, is thrilled to once again support the 8th annual Go the Distance for Autism Ride (GTD4A) presented by Ramsey Auto Group. Go the Distance for Autism is the largest charity cycling event in northern NJ raising money for individuals with autism and their families. Autism Education and Service programs from across the state will join forces on Sunday June 4th at Bergen Community College in Paramus, NJ to host close to 2,000 participants at this year's Go the Distance Bike Ride. GTD4A features four professionally designed and supported routes to match any cyclist's desired challenge: 10 Miles, Quarter Century (25), Metric Century (62.5) and 3 Mile Family Loop. To register please visit our website (https://www.gtd4autism.org/index.cfm?fuseaction=register.start&eventID=540)
Included in the day's events is the GTD4A Family Fun Festival featuring a Community Pavilion, family friendly activities, games, music and lunch catered by Market Basket. Passes to the Family Fun Festival are available at the entrance; $10 for kids 3-17, $20 for Adults and children 2 and under are free.
"We are excited to once again have PhotoSesh partner with GTD4A. By lending us their time and talents we are confident that all the day's most special moments will be captured," says Go the Distance for Autism representative Genna Toye. "The PhotoSesh Concierge, bringing attention to detail and boundless creativity are the reason why they have become the go-to platform for event photography."
About Go the Distance for Autism
Go the Distance for Autism is a unique event that bands five organizations together to raise funds for a common mission - to provide educational and treatment programs for children and adults with autism. Alpine Learning Group, The EPIC School, Garden Academy, Institute for Educational Achievement, and REED Academy are working together to change the future for those who struggle with autism, spread much needed awareness, and directly impact the lives of children and their families living with autism every day. All five programs are in Northern NJ and all monies raised from the Go the Distance for Autism Ride support educational and treatment programs for children and adults with autism.
About PhotoSesh
PhotoSesh is the easiest, fastest, and most efficient way to book a photographer. Co-Founders Shari and Christopher Seshadri launched PhotoSesh in 2016 and have brought America this new way to seamlessly and securely find a photographer. While gaining significant traction with thousands of photographers across 43 states, Us Weekly describes it as, "PhotoSesh - think: Uber for professional photographers." PhotoSesh provides a platform for Pro photographers to offer their openings at a discount. This keeps photographers busy and helps customers save. PhotoSesh brings to the consumer affordable pricing and much needed transparency that was lacking in the chaotic search & hire process that exists today. There are thousands of PhotoSesh photographers across the country waiting for your request on-demand or scheduled up to 6 months in advance. To see how easy it is to book a photographer in seconds, just download the app and explore the talent around you! Download in the App Store.