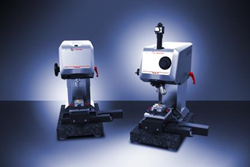 Ashland, Virginia (PRWEB) April 29, 2017
Based on Anton Paar's unmatched experience in scratch testing, the Revetest® Scratch Tester RST³ has been developed for evaluating hard coatings with a typical coating thickness of several microns. The RST³ is capable of applying forces in the range 0.5 to 200 N to test the adhesion, cohesion and structural integrity of modern coatings.
Such coatings may be organic, inorganic, used for magnetic and decorative applications, including CVD, PECVD, PVD, metallization and passivation layers, or friction and wear protective coatings. The substrates used can be refractive and organic materials, minerals, glasses, semiconductors, alloys and metals.
Developed with all-new onboard electronics, the RST³ is more compact and more suited to Quality Control (QC) laboratory environments. The simultaneous release of the latest software (V7.3) allows the user to automatically detect the critical load based on a threshold on all the optional sensors (penetration depth, acoustic emission or friction force). This feature makes the Anton Paar RST3 the first scratch tester with automatic detection of critical loads.
Contact Anton Paar for more details and a free on-site demonstration.