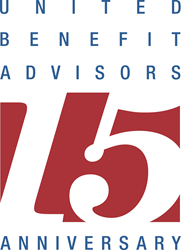 "With more than 130 Partner Firms, this is a great time for UBA and its partner firms to celebrate our role in helping employers. - Scott Deru, UBA Chairman of the Board
Indianapolis, IN (PRWEB) April 27, 2017
United Benefit Advisors (UBA) is celebrating its 15-year anniversary as the nation's leading independent employee benefits advisory organization. It all began when a group of fellow employee benefits professionals met at the Society of Financial Service Professionals Success Forum in Las Vegas to discuss the future of their business, the challenges to retain their independence, and ways to level the playing field by forming a national employee benefits producer group.
Led by co-founders and visionaries David LoCascio and Chris John, this group saw unlimited potential and power in sharing their collective expertise and knowledge to form a partnership called United Benefit Advisors. They firmly believed that the collective wisdom, expertise, experience and unique strengths which resides within the top independent benefits firms had the potential to not only meet these challenges, but to capitalize on the tremendous opportunity they represent.
"Since being founded in 2002 with 31 Charter Partner Firms, UBA has grown significantly from its humble beginnings," says Scott Deru, UBA Chairman of the Board. "Now with more than 130 Partner Firms, this is a great time for UBA and these firms to celebrate our role in helping employers provide affordable health care to their employees and live better lives."
In just 15 years of dedicated service to the benefits industry, UBA has increased its partnership by more than 400 percent and its benefits revenue by more than 300 percent. While more than 130 Partner Firms currently make up UBA, they all remain independent agencies. Some UBA milestones:

2003: UBA ranks as one of the top 10 largest employee benefit advisory organizations
2004: UBA goes international with its first Partner Firm in Canada
2004: In just two years, UBA increased its partnership from 31 Partner Firms to a milestone of 100 Partner Firms
2005: UBA launches proprietary Employee Benefit Center® (EBC) Web portal
2005: Release of the inaugural UBA Health Plan Survey, the largest medical plan benchmarking survey of its kind
2009: UBA's gains a United Kingdom Partner Firm in England
2013: Benefits Passport, UBA's new Private Exchange, is launched
2015: UBA launches a Captive Insurance product
2016: UBA is the sixth largest global employee benefits broker, with combined annual employee benefits revenues of more than $484 million
2016: The annual UBA Health Plan Survey grows to become larger than all the leading surveys produced by Kaiser, Mercer, Gallagher, Willis Towers Watson, and Aon—combined!
2016: UBA Partners serve two and a half million employees, insure more than five million lives, and saved employers, on average, six percent on their most recent medical plan renewals.
ABOUT United Benefit Advisors®
United Benefit Advisors® (UBA) is the nation's leading independent employee benefits advisory organization with more than 200 offices throughout the United States, Canada and the United Kingdom. UBA empowers more than 2,000 Partners to both maintain their individuality and pool their expertise, insight, and market presence to provide best-in-class services and solutions. Employers, advisors and industry-related organizations interested in obtaining powerful results from the shared wisdom of our Partners should visit http://www.UBAbenefits.com.
# # #