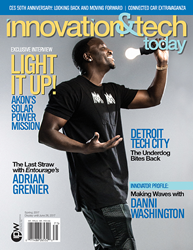 A tech magazine ignoring the gaming world is like drawing a map and leaving off an entire continent.
Denver, CO (PRWEB) April 28, 2017
National quarterly Innovation & Tech Today is preparing to release its summer edition on June 13 at the largest gaming convention in the world: E3. This announcement comes on the heels of its recent award for best B2C magazine at the annual Super Niche Media conference. The publication is also conducting a unique promotion at the event: a Willy Wonka-inspired giveaway in which readers who find a "Golden Ticket" in copies of the magazine will win high-value prizes from advertisers.
This issue will continue the magazine's commitment to hosting exclusive gaming news and interviews, with special section editor John Gaudiosi. This makes it a rare commodity in a market where many publications have opted for an online-only presence.
"A tech magazine ignoring the gaming world is like drawing a map and leaving off an entire continent," said Executive Editor Paul French. "It's such an interesting world, especially with the recent surge of VR and AR applications."
Innovation & Tech Today has consistently featured A-list celebrities over the past year, including Scarlett Johansson and Kevin Hart, and their summer issue promises to be no exception. "We won't say exactly who we've got lined up in this issue yet, but there are some blockbuster stars in here, along with thought-leaders in the fields of technology, sustainability, cyber security, and even politics," French continued.
In addition to E3, Innovation & Tech Today has partnered with Outdoor Retailer for its annual conference in July. To mark the event, the magazine has prepared several exclusive features on athletes who also have a presence in the tech world for an extended "Outdoor & Adventure" section. "The great thing about tech is that there's always a connection, no matter what you're doing. We try to celebrate that diversity as much as we can," French explained. "Every issue has a a solid outdoor section so it only makes sense to be onsite at the biggest outdoor show in the world."
In line with its E3 plans, Innovation & Tech Today will offer a second "Golden Ticket" promotion at the Outdoor Retailer Show starting on July 26, this time with sports and outdoor-themed prizes from its advertisers.
Anyone interested in these promotions is encouraged to contact Innovation & Tech Today as there are limited sponsorships available and it is very easy to subscribe to Innovation & Tech Today. The magazine is also available for sale at every Barnes & Noble and Micro Center in North America and is on every digital platform and online newsstand.