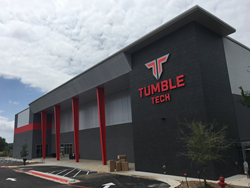 "2017 has been a banner year for Tumble Tech," noted Danielle Wills, president and owner of Tumble Tech, "we had nineteen athletes winning State Championships at this year's State Title meet, and are so excited to open our new gym."
Austin, Texas (PRWEB) April 28, 2017
Tumble Tech, a competitive Power Tumbling and aerial sports gym, announced today it has opened a north Austin gym in Cedar Park, located on historic "sports row," across from Austin Sports Center and Nitro Swim Center, at 1301 Toro Grande.
Tumble Tech's 40,000-square foot facility boasts a 52-foot long in-ground foam pit, horizontal and vertical wall trampolines, state-of-the-art tumbling, double-mini, cheerleading, rod and spring floors, and a 5000-square foot Parkour and ninja obstacle course.
San Antonio Stars Vipers All Star Cheerleading program will join Tumble Tech at the Cedar Park facility, giving area athletes access to one of the top cheerleading programs in the country. These cheer athletes will continue to hone their tumbling skills working with the world-class coaching staff at Tumble Tech. Tumble Tech is currently enrolling beginning to advanced athletes and encourages students at all levels to see if power tumbling and trampoline, Parkour, ninja, or competitive cheer, is a sport for them. Tumble Tech's professional coaching staff is highly recruited, use proper technique, strength training, and proven progressions to make each athlete the best they can be, focusing on sports safety.
Tumble Tech opened its first gym in the Westlake Athletic Community Center in 2015, expanded into Round Rock in 2016, and presently has an enrollment of over 50 competitive team athletes, and over 350 recreational level student athletes.
Tumble Tech and Stars Vipers will be hosting camps and clinics at both the new Cedar Park Gym, and the WACC Gym over the summer, and are enrolling for All-Star Cheerleading and Power Tumbling and Trampoline teams for the 2017-18 season.
For more information, visit us on Facebook, Instagram and at Tumble Tech