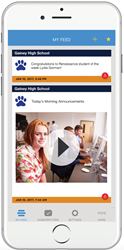 Minneapolis, MN (PRWEB) April 27, 2017
Jostens, the nation's leading provider of yearbooks, class rings and regalia serving the K-12 and college market, recently announced the introduction of video functionality to its free SchoolWay mobile app in an effort to help principals better connect with Millennial parents.
"Video is a primary communication vehicle for parents, especially Millennials," said Gloria Garcia, program director of SchoolWay. "SchoolWay has a long history of providing the latest technology to help connect schools with families, and video is just the latest example of our commitment."
A recent survey by Animoto, a video content provider, found that 62% of Millennials would rather watch a video than read text, and that the addition of video to traditionally text-based newsletters increased the likelihood of readership.
Salpointe Catholic High School in Tuscon, Arizona has used SchoolWay for 4 years, and looks forward to incorporating video to keep parents in the know and assured of their childrens' safety. "Safety is the original reason we chose SchoolWay as our official communication app," said Suzi Malisewski, Educational Technology Coordinator. "Being able to send near-instantaneous messages in a LIVE situation is invaluable. In this day and age, emergency messaging should be a required part of every school's emergency communication plan."
The SchoolWay mobile app also includes [email, SMS and social media] functionality in a secured communication environment between schools, parents and students, and is provided free of charge to Jostens customers. "At Jostens we talk a lot about being a trusted partner in celebrating moments that matter," said Garcia, "and SchoolWay is an important way of demonstrating our commitment and building that trust."
About SchoolWay
SchoolWay provides communication services to school districts through Apple and Android apps distributed by Jostens at no cost to users. SchoolWay is part of Jostens, a leading provider of products, programs and services that help its customers celebrate moments that matter. SchoolWay is available in seven languages for iPhone, Android, and any browser-enabled device. For more information, visit http://www.myschoolway.com.
About Jostens
Jostens is a trusted partner in the academic and achievement channel, providing products, programs and services that help its customers celebrate moments that matter. The company's products include yearbooks, publications, jewelry and consumer goods that serve the K-12 educational, college and professional sports segments. Founded in 1897 and based in Minneapolis, Minn., Jostens can be found online at http://www.jostens.com.
About Newell Brands
Newell Brands (NYSE: NWL) is a leading global consumer goods company with a strong portfolio of well-known brands, including Paper Mate®, Sharpie®, Dymo®, EXPO®, Parker®, Elmer's®, Coleman®, Jostens®, Marmot®, Rawlings®, Irwin®, Lenox®, Oster®, Sunbeam®, FoodSaver®, Mr. Coffee®, Rubbermaid Commercial Products®, Graco®, Baby Jogger®, NUK®, Calphalon®, Rubbermaid®, Contigo®, First Alert®, Waddington and Yankee Candle®. Driven by a sharp focus on the consumer, leading investment in innovation and brands, and a performance-driven culture, Newell Brands helps consumers achieve more where they live, learn, work and play.
This press release and additional information about Newell Brands are available on the company's website, http://www.newellbrands.com.