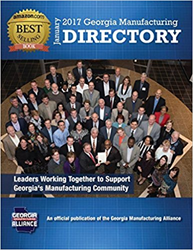 #1 Amazon Best Seller for 2 Years
Atlanta, GA (PRWEB) April 28, 2017
The Georgia Manufacturing Directory has received "#1 Amazon Best Seller" status in the categories of Manufacturing Industry and Catalogs and Directories for the January 2017 Edition. Released in February of this year, this directory has become the number one desktop reference guide for manufacturers, suppliers, distributors, and service industries to find local resources in Georgia.
"We developed a printed and online version of the Georgia Manufacturing Directory to encourage companies to buy local, which is the best way to boost Georgia's economy," said Jason Moss, CEO of the Georgia Manufacturing Alliance. "We are leading a grass roots effort to highlight the best in Georgia manufacturing and are co-branding with leading companies who are working together to keep business in our state."
The January 2017 Edition is a 48-page reference guide distributed to the CEOs and Purchasing Agents of the top 1,500 manufacturing facilities in the state. It was also mailed to the sponsors and members of the Georgia Manufacturing Alliance and will be given to every attendee at the Georgia Manufacturing Summit. The 2017 Summit will be held October 25th at the Cobb Galleria and will highlight the plants, people and products that create a vibrant manufacturing environment in our state.
One of the keynote speakers will be Rob Dugas, the Chief Procurement Officer and Vice President of Chick-fil-A. Mr. Dugas serves Chick-fil-A by overseeing the business functions which are responsible for ensuring product integrity, competitive cost, and a reliable supply chain distribution for over 2000 restaurants in the United States and Canada. He will address over 700 industry professionals from around the state that want to hear the important topic Navigating the New Trends in Supply Chain Management.
About the Georgia Manufacturing Alliance:
The Georgia Manufacturing Alliance (GMA) is a membership-based industry organization founded in 2008 to support Georgia's manufacturing community. GMA provides monthly plant tours, educational sessions, tradeshows, and unique networking opportunities designed to help make profitable business connections for its members. The Georgia Manufacturing Directory, Georgia Manufacturing Summit, and Georgia Manufacturing Calendar are additional resources produced by GMA. To learn more about the organization, membership, and upcoming events, please call 770-338-0051 or visit their website http://www.GeorgiaManufacturingAlliance.com .