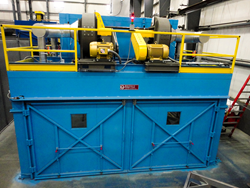 East Troy, WI (PRWEB) April 28, 2017
Wisconsin Oven Corporation shipped two (2) steam heated batch ovens to a leading manufacturer of industrial products. The industrial ovens will be used for curing a water based adhesive applied to rolls of sand paper. The adhesive is needed for the sand to stick to the paper and curing the adhesive provides for a more durable product. These ovens are a duplicate to a previous order and were needed to meet increased production demands.
The curing ovens have a maximum operating temperature of 300°F and work chamber dimensions of 17'6" W x 21'4" L x 7'6" H. The customer required temperature uniformity of ±5°F at 240°F for each batch oven which was verified by a twenty (20) point profile test. These ovens have sufficient capability to heat 35,000 pounds of product from 70°F to 240°F within a 2-hour period and cool the load down to 140°F within 3 hours.
These batch ovens feature top-down airflow that is distributed through the work chamber by factory preset nozzles. Jumbo suction fans are utilized to draw hot air through all the layers of the sand paper rolls. The airflow arrangement provides optimum air flow efficiencies along with maximizing heating rates and temperature uniformity of the product.
"At Wisconsin Oven, we pride ourselves on new and innovative designs. For this project, large suction fans were used in the design to ensure that the hot air was drawing through all layers of the roll for a uniform cure of the adhesive."- Tom Trueman, Application Engineer
Unique features of these curing batch ovens include:
•Steam heated
•Humidity injection
•Unique top-down airflow
•TC jack panels
•Pressure control
•Control by any thermocouple
•Humidity control
•Indoor/outdoor ambient make-up air control
•Guaranteed temperature uniformity of ±5°F
•Variable fan speed
•PLC controlled
•Interior lighting
•Ladder to access roof mounted components
•Safety railing around roof perimeter
•Customized to fit into a tight location
An extensive quality assurance check list was completed to ensure the equipment met all Wisconsin Oven quality standards.
About Wisconsin Oven
Wisconsin Oven Corporation has been designing, engineering, and manufacturing industrial ovens and other heating equipment since 1973. Their custom and standard industrial ovens are used for a multitude of applications including heat treating, finishing, drying, and curing. Many of the industries they serve require specific temperature uniformity and equipment performance documentation. Their experienced design team is able to meet even the most stringent standards for their customers' equipment. Wisconsin Oven realizes that the success of the company depends on their Championship team of employees, which is why they have developed a company culture that recognizes and rewards employees. The goal at Wisconsin Oven is to outperform competition and provide customers with outstanding products and service.
Wisconsin Oven is owned by Thermal Product Solutions ("TPS"), a leading American manufacturer of custom industrial ovens used for heat treating, finishing, drying, curing, manufacturing automation and process control. TPS is a global leader in thermal processing products and test solutions with brands including Baker Furnace, BlueM, Gruenberg, Tenney, Lindberg/MPH, Lunaire, and Wisconsin Oven. For more information on equipment solutions from TPS visit the website at http://www.thermalproductsolutions.com. #10362AB