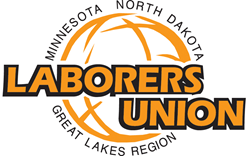 Saint Paul, Minnesota (April 27, 2017) (PRWEB) April 27, 2017
The Laborers District Council of Minnesota and North Dakota announced today that Tim Mackey has assumed the position of President following the April 30 retirement of Todd Pufahl. Mackey comes into the position with 25 years of union leadership experience.
"Becoming president is the culmination of many years of work serving our members," said Mackey. "I built my career in leadership from the ground up. I am very proud of that."
Before becoming Laborers District Council President, Mackey served as Laborers Local 563 Business Manager since 2008.
"I am a very passionate hands-on leader," he said. "It's a privilege to serve our membership. The future holds many for challenges that I know we can overcome."
Mackey said that some of his challenges include increasing membership which already sits at an all-time high of more than 13,000 and advocating for more union jobs in the areas of transportation and construction. Mackey acknowledges that there will be significant challenges and threats to the well-being of the union worker under the Trump administration.
"This is a unique time for labor. We need to remain strong and advocate for the laborer who has done so much to build this country," he said. "It is important we serve our members well as our country transitions into new leadership with new ideas. I promise our membership I will always work with their best interests in mind."
About Us
The Laborers International Union of North America, LiUNA, is a labor union that has represented American and Canadian workers for 114 years, since its establishment in 1903. The AFL-CIO affiliated union has over 550,000 members.
Chartered in 1968 by LiUNA, the Laborers District Council of MN and ND and its five affiliated Local Unions represent more than 13,000 workers in Minnesota, North Dakota and Northwestern Wisconsin. For more information check out their website or Facebook page http://www.minnesotalaborers.org or http://www.facebook.com/MinnesotaLaborers ###