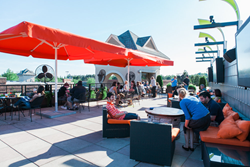 Our entire team is excited about the new outdoor decks.
Atlanta, Georgia (PRWEB) April 28, 2017
This spring, the popular Tex Mex restaurant Twisted Taco has recently opened rooftop patios at three of their Atlanta area locations. The rooftop seating area is now open at restaurant locations in Johns Creek, Suwannee, and Fayetteville. These unique outdoor additions provide a summertime opportunity to enjoy the weather with delicious food and refreshing drinks.
Twisted Taco has grown a large and loyal customer base in recent years. With weekly trivia nights, Taco Tuesday promotions, and live music, the restaurant is equally known for entertainment as it is for great food. With new rooftop seating areas, the restaurant chain hopes to further improve its reputation as the neighborhood entertainment hotspot.
Designed by top architectural firms in the Southeast, the rooftop dining areas feature large seating arrangements for dozens of diners, families, and large parties to enjoy a casual meal. The patios are also complete with an outdoor bar for draft beer and speedy ordering, as well as outdoor amenities like fireplaces and shady lounging areas.
"Our entire team is excited about the new outdoor decks," says Paul Gibbs, President of Twisted Taco. "More importantly though, it provides an even better experience for our customers. You can enjoy a nice view of Johns Creek and listen to live music at the same time. It's a unique experience that keeps many of our customers coming back."
Paving The Way in Tex Mex Cuisine
Twisted Taco has been recognized as one of the fastest growing casual dining chains in the Metro Atlanta area. With 9 locations around Atlanta and New York, Tennessee, South Carolina, and Kentucky, the restaurant is leading the way in serving customers creative tacos with fresh ingredients.
With affordable prices and fast service, casual taco restaurants have soared in popularity in the past decade. Twisted Taco has very much been at the forefront of this culinary trend, reinventing new and exciting ways to serve classic taco recipes. Claudio Antonio, the executive chef at Twisted Taco, pulls inspiration from traditional Mexican cuisine and then combines these ideas with American fare like barbecue, fried southern food, and Cajun spices.
Considering the population explosion occurring in the Atlanta area, Twisted Taco has grown in both reputation and size. More and more diners are opting for fast casual alternatives during their lunch break and Twisted Taco has taken advantage of that trend with quick and affordable lunch specials. With the opening of their outdoor patios, the restaurant hopes to continue growing and attracting families to dine during local events like Cinco de Mayo celebrations.
For more information about Twisted Taco or to find a location near you, visit TwistedTaco.com or download the Twisted Taco app on iOS or Android.
This was submitted by ClickReady Marketing an Atlanta SEO Company.