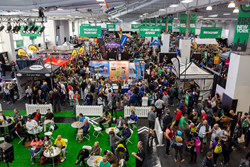 New York, NY (PRWEB) April 28, 2017
On the two days prior to the TD Five Boro Bike Tour Presented by REI, more than 60,000 cyclists will roll through Basketball City to meet, greet, & talk shop with one another and 100+ exhibitors. Like the Tour, the event is produced by Bike New York, New York City's leading bike education nonprofit.
Among the exhibitors are top bike and gear brands (including Raleigh, Giant, Brompton, Manhattan Portage, Specialized, Bern); bike apparel labels (Primal Wear, Fairwear); tourism companies (Trek Travel, Taiwan Tourism); bike events (Braking AIDS® Ride, Bike MS); advocacy groups (New York Bicycling Coalition, Brooklyn Greenway Initiative); local companies (Redbeard Bikes, Paragon Sports, GoGo Gone), and many others dedicated to active lifestyles (REI, Nuun, Momentum Magazine).
In addition to exhibitor booths, Bike Expo New York is packed with programming for the casual and serious cyclists alike. Events include a fashion show featuring the latest in apparel and accessories, how-to demonstrations, and much more. An outdoor bike skills zone will feature on-bike classes from Bike New York's free curriculum. Attendees will also find a beer garden sponsored by New Belgium Brewing and several food vendors overlooking the Hudson.
For a full list of exhibitors and programming, click here.
DATES/TIMES:
May 5, 10AM-8PM
May 6, 9AM-6PM
LOCATION:
Pier 36 at Basketball City, 299 South Street, Manhattan
MEDIA CONTACT:
Sam Polcer
Director of Communications
Bike New York
spolcer(at)bike.nyc
212-870-2085
About Bike New York
Bike New York is 501(c)(3) nonprofit that provides free bike education programs throughout the five boroughs. In 2016 alone, they taught bike skills to more than 17,000 kids and adults. Funding for these programs comes from the organization's numerous annual events, including the TD Five Boro Bike Tour, Bike Expo New York, and smaller regional and local rides. http://www.bike.nyc