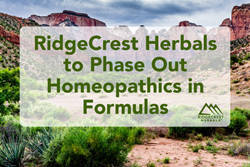 Ridgecrest Herbals will be phasing out the homeopathic elements in their formulas, beginning with ClearLungs Extra Strength.
Salt Lake City, UT (PRWEB) April 28, 2017
Beginning in 2017, Ridgecrest Herbals will be phasing out the homeopathic elements that exist in some of their formulas. This begins with the popular ClearLungs Extra Strength formula. To ensure that the effectiveness of Clear Lungs Extra Strength is not impacted, they will be changing the formula in the following ways:

Removal of the homeopathic element
Adding their patented Availablend formula to increase effectiveness
Ridgecrest Herbals continues to believe in the effectiveness and benefits of homeopathic remedies but feels that in the current hostile regulatory atmosphere it is safer as a company to remove homeopathy from their products. This decision has come from a multitude of events in the industry:
Historically, homeopathic drugs were permitted to indicate suggested uses based on the Homeopathic Pharmacopoeia of the United States (HPUS). These HPUS usage guidelines are based on homeopathic provings, which are fundamentally different in nature than the clinical trials used by conventional drugs. Traditionally, the FTC has not significantly regulated either advertising or labels of homeopathic drugs, leaving the FDA to act as the primary regulatory agency for homeopathy.
For many years, the FDA has been opposed to combinations of homeopathics with other products such as herbs, because homeopathics are regulated as drugs and herbs are generally regulated as supplements. This makes it difficult to satisfy conflicting regulations with respect to formulation and labeling.
The FDA has recently taken the position that homeopathics should be subject to identity testing. Because of the nature of the small dosages of the homeopathic tradition, this regulation is impossible to satisfy with current science.
In November 2016, the Federal Trade Commission announced a new "Enforcement Policy Statement on Marketing Claims for Over-the-Counter Homeopathic Drugs." Their new position essentially adopts the "clinical-trial" standard applied to pharmaceuticals. This will vastly increase the cost of traditional homeopathic medicines, or make it very difficult for manufacturers to describe to consumers what the product is designed for.
RidgeCrest Herbals expects to have all formulas updated within the next six months to two years based on the regulatory requirements. The formulas impacted include Migraine Relief, Dream On, PhysiQOL, ProstEase, and WaterX. RidgeCrest Herbals will be reformulating certain products to ensure that they will remain as effective and useful as ever. If you have questions, please contact Will(at)rcherbals(dot)com or Nichole(at)rcherbals(dot)com.