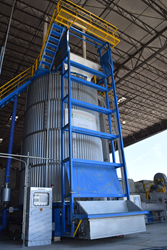 With the difficulties that our company faced in the market with M-Fuel and Nanotechnology, I felt it was best we re-focus and re-energize our efforts into our aerobic digestion technology...
Chicago, IL (PRWEB) April 28, 2017
While things have been quiet for EcoloCap over the past few years, their team has worked hard to restructure the company and provide a new outlook for the future. As a continued effort to bring innovative technology to the world, EcoloCap Solutions has decided to implement new management with the retirement of Mr. Siegel as CEO. With the new adjustments in management, EcoloCap has introduced itself to the growing realm of eco-technology; an industry which EcoloCap believes can become a world-leader.
The EcoloCap Solutions' board has voted to elect James Kwak as the new President and CEO. This will take effect on June 1, 2017. James is determined to make EcoloCap a household name. He has a rich background in business development, sales, and building the groundwork for companies to achieve success and to reach their potential. Former CEO, Michael Siegel, will stay on as a director and assume the title of Chief Technology Officer where he will concentrate on developing new applications for the ECOS/Bio-ART technology.
James Kwak states: "With Mr. Siegel's retirement the board felt it was necessary to re-structure our organization so Ecolocap could focus on everyone's strengths and weaknesses. In addition to our previous management, we have added strong members to our team that will help us continuously be ahead of the curve and create new opportunities."
In addition to management changes, EcoloCap has structured a new partnership with Lakeshore Recycling Systems. The LRS partnership will allow EcoloCap to deploy the first installation of the ECOS Bio-ART technology at an LRS facility in Chicago. There has been tremendous buzz around this new technology in that it can truly change the way the world looks at waste management. The new technology will ultimately lead to a more green and sustainable Earth by using biological fermentation technology in an patented, in-vessel aerobic digestion.
When asked about EcoloCap's new technology James further states: "This technology not only applies to the waste industry, but has many beneficial applications towards the farming/agricultural sectors, industrial waste streams and human bio-solids remediation. All of these industries face environmental and regulatory issues that we feel we can make a large impact."
Initially, LRS will be processing 15 tons of organic waste per day. The ECOS technology will eliminate landfilling, decrease the problems associated of handling the waste, such as odors, and increasing revenue through costs savings and output sales.
As one of his first tasks, James raised funds through his own private companies to get the pilot project up and running. The project with LRS is just one example of what EcoloCap can accomplish to showcase it's world-changing technology.
In his final statement, James states, "With the difficulties that our company faced in the market with M-Fuel and Nanotechnology, I felt it was best we re-focus and re-energize our efforts into our aerobic digestion technology that we know is going to change the way our world disposes of its organic waste."
About Ecolocap
The Ecolocap compost technology redirects all organic waste into a valuable byproduct. The byproduct includes organic fertilizers, chicken, fish feed, or biomass in the form of a dry powder or pellet that can be efficiently stored, transported, and spread.
This press release may contain statements of a forward-looking nature regarding future events. These statements are only predictions, and actual events may differ materially. Please refer to documents that EcoloCap Solutions Inc. files from time to time with the Securities and Exchange Commission for a discussion of certain factors that could cause actual results to differ materials from those contained in the forward-looking statements.
Visit Ecolocap.com for more information.