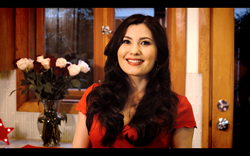 "Coming from a multiethnic background myself, I would love to share more of those cultural themes through art, cuisine, and media."
Los Angeles, CA (PRWEB) April 28, 2017
The first-look cookie recipe video, from the comedic, cooking show Rosa's Kitchen, has already reached hundreds of thousands of viewers online. The original new media series was created and produced by actress and writer Celeste Thorson. The Mexican Wedding Cookies recipe from the webseries' Snowball teaser was released late December 2016 and has since attracted an audience of predominantly food loving millennials and centennials from the United States on Facebook. Approximately 80% of the viewers are Generation Y and Z women between the ages of 13-24.
The show stars Celeste Thorson as Rosa Lee, a multicultural home cook and graphic designer with a passion for food and lifestyle. Bored of adulting, she embarks on a food blog and cooking vlog to share her family recipes online with the help of her brother Aaron.
"My vision for this show is to explore the art of living from the perspective of a creative, multiracial millennial," said Thorson. "Coming from a multiethnic background myself, I would love to share more of those cultural themes through art, cuisine, and media."
Fans from the Rosa's Kitchen TV audience have already given positive feedback about the program. Many have commented requesting more recipes like Chocolate cookies, Chicken Tortilla Soup, and Mole. One viewer who tried the snowball recipe from the first look video said "Thank you so much. These are delicious. I tried this earlier, sorry I couldn't take pictures everyone just started taking [them]."
About Celeste Thorson:
Celeste has been seen on TV shows like How I Met Your Mother, Heartbeat, The Exes, and Jimmy Kimmel Live. She has performed as an actress and host in 64 film, television, and new media episodes. As a screenwriter and content creator, her credits include 27 episodes of television, nine new media episodes, and five short films. She has produced 11 projects for film and television, in addition to Directing six titles. As a digital influencer, her videos on Facebook and Youtube have earned over 27 millions of views with a fanbase exceeding 1.7 million followers. More information about Celeste Thorson can be found on http://www.CelesteThorson.com with credits and TV airing schedules on http://www.imdb.com/name/nm2294576/
About Rosa's Kitchen:
The interactive new media web series features Rosa, a fashionable, multi-ethnic graphic designer, who moonlights as a home-cook and whips up a successful online cooking channel while reluctantly looking for love. Rosa harmonizes her family by fusing Asian, American & Latin flavors. The family doesn't always agree on everything, but food always brings them together. The independent comedy series is currently in development and incorporates multicultural themes, technology, interactive media, and shop-able content via social media. More information can be found on http://www.RosasKitchenTV.com
For additional inquiries, please contact: jane(at)janeowenpr(dot)com (323) 819-1122.