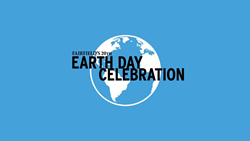 Fairfield, CT (PRWEB) April 28, 2017
Fairfield Theatre Company's Earth Day Celebration attracts over 1,000 attendees and over 100 exhibitors and sponsors with the assistance of over 100 volunteers. The event features live music, a variety of food trucks, and a myriad of family-friendly activities like face painting, arts and crafts, fun and games, and more.
"We're proud to have our 20th Fairfield Earth Day Celebration in our downtown center at Post Road and Sanford Street. This family-friendly event has something for everyone, as does our wonderful downtown," said Mike Tetreau, Fairfield's first selectman. "This event brings our community together to help raise awareness about problems facing our planet and how to live gently on the earth: one business, one family, and one person at a time. I hope you'll join me in celebrating Earth Day in Fairfield on April 30."
"We encourage folks to 'be green' and take the train to our event," recommends the event chair, Mary Hogue. "We'll have our usual Trashy Fashions created and modeled by students, our non-stop music at two venues, and loads of arts, crafts, face painting and games, along with over 100 exhibitors, and so much more! Bring the Hoopla is joining us in the afternoon and we're thrilled to lead into FTC's International Ocean Film Tour starting at 6:30 p.m. For tickets for the film festival, folks should visit fairfieldtheatre.org. The daytime Earth Day Celebration is free!"
To celebrate all that the community and earth have to offer, join Fairfield for their 20th Earth Day Celebration on April 30 in The Warehouse.
The "Green" Offer
Take a break from all the dancing and can discuss energy issues, like how to go solar (Connecticut offers generous incentives for homeowners). Hundreds of families in Fairfield have already opted for photovoltaic arrays to produce energy, save money and help the Earth. Vendors from solar companies will be ready to answer questions.
Sierra Club will have experts on hand to talk about issues like fracked gas and shared solar. Concerned about Carbon pollution? Public transportation? GMOs? For those who want to know what's happening on the legislative level, there will be a Legislators Forum at noon at the Sherman Green gazebo. Get up close and personal on environmental issues with Connecticut politicians who make FEDC an annual stop to meet people.
Taking Off
At Sherman Green, a half-sized, working replica (and an object of mechanical beauty) of the plane flown by Gustave Whitehead, will be exhibited. Make sure to get a selfie with this awesome bit of history. Whitehead, who flew his plane in Bridgeport, CT, two years before the Wright Brothers, is steadily gaining a place in aviation history.
New Eco-friendly Cars
See how the auto industry is changing to be green! Maritime Motors will bring a Chevy Volt and a Bolt. Come see their innovative green technology.
Recycling Available
Bring something old; clothes, shoes, and fabrics will be collected and recycled by Bay State Textiles. Come to the Solid Waste and Recycling table to learn more about Fairfield's Single Stream recycling program, which earns the town money. Homeowners can learn how to lower their taxes and carbon footprint at the same time.
About Fairfield Theatre Company:
Fairfield Theatre Company is a highly-acclaimed non-profit performing arts organization located in the heart of downtown Fairfield. FTC presents over 300 concerts and events each year featuring outstanding national talent at FTC's StageOne and at The Warehouse. FTC's venues are widely recognized as being the best places to see live performances in the region. FTC's mission is to connect and enrich the community through the transforming power of the arts. For more information, go to fairfieldtheatre.org.