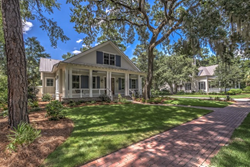 Given the robust southeastern real estate market, many relocating baby boomers are purchasing home sites now, even if they don't plan to build for 2-5 years, because they understand the distinct advantages of doing so.
Bluffton, SC (PRWEB) April 29, 2017
Marian Schaffer, Principal and Founder of Southeast Discovery, a real estate consulting firm specializing in guiding Baby Boomers with their real estate needs in the niche markets of retirement relocation and second homes in the Southeast region, recently shared four advantages of purchasing a home site prior to relocation and retirement.
"In our work with clients, we've seen a lot of folks who may still be 2-5 years away from retirement, but are currently looking at areas and communities in the Southeast they may want to relocate to in a few years' time," said Schaffer. "They see that the market has been robust, and if they find what they like in an area and community and can see themselves living there, they recognize with the demographic of so many baby boomers relocating, their best option may be to secure the home site now, then build when they're ready."
Schaffer noted that lot values are increasing in price, and that the inventory selection is shrinking.
Schaffer shared the following four advantages of securing a home site 2-5 years prior to a relocation move:
Getting the home site you want. "Buyers don't want to come back 2-3 years after seeing a lot in a community they loved, and say, 'I remember when that lot was for sale, I wish I would have bought it then, because while I still love the development, there are far fewer sites I care to buy to build on,'" said Schaffer.
Getting a fair price in a high-demand market. Schaffer pointed out there's currently a high demand in the Southeast region's real estate market and prices for home sites are continuing to rise. "Even if home buyers are not ready to relocate now, they're figuring out it's to their advantage to secure a home site of their choice and lock in on today's prices, rather than waiting until they're ready to move when prices will be higher and there will be less inventory to choose from."
The comfort of knowing where you're going to relocate to. "Another advantage of purchasing a home site now is, it can be a comfort for folks to know 'the where' of where they're going to relocate to. They can start to prepare for this life move, both mentally and logistically by visiting and revisiting the area when there's time, to familiarize themselves more with the area's shopping, dining, medical and recreational attributes that are nearby," said Schaffer. "It makes the final move that much less intimidating. They may start to get to know their future neighbors and people in the community they will live near, and even attend social functions throughout the year."
Ease of planning. "If they buy now, they can start organizing and planning for the build of their home and what the build will be, as every lot dictates a different kind of build," said Schaffer.
Some of the questions buyers should consider in advance include, what size the footprint of the home can be; if there will be a need for a walk-out basement (if the lot has a slope); if the home site dictates a wide floor plan vs a deep floor plan, based on the width and depth of the home site; if the home can have a 2 or 3 car garage, and if it can be a side load or front stall garage; what the covenants and restrictions for the build are as they pertain to the exterior of the home; what type of building materials and style of home is permissible – stucco, southern style architecture, mountain craftsman, traditional, etc. – as this can impact build costs; and if there are square footage minimums and maximums to the home site and within the community's parameters.
For those relocating to the Southeast who want information on how and where to start their search, Southeast Discovery assists folks from all over the U.S. streamline the process so they can find the right area and community to call home. Complete the firm's complimentary online questionnaire here to receive feedback on the best areas and communities in the Southeast for retirement and relocation.
About Southeast Discovery
Since 2004, Southeast Discovery has been a trusted resource for candid information and insight on communities, developments, and general real estate in the Southeast. Through its highly-ranked web portal, newsletter and blog and its one-on-one work with clients, Southeast Discovery helps buyers actively looking for a retirement or second home in the Southeast navigate the process of identifying the right area and community for their needs. To learn more, visit http://www.southeastdiscovery.com/