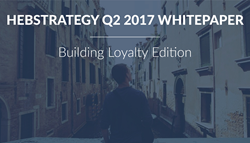 (PRWEB) April 30, 2017
As part of its position as a hospitality industry thought leader, HeBS Digital is pleased to announce the release of the second installment in a series of HeBStrategy whitepapers for 2017. The HeBStrategy Q2 edition assesses the climate of the hospitality industry, explores creative approaches to brand loyalty and guest recognition programs, and highlights key findings hoteliers should be mindful of in auditing their hotel digital marketing strategies.
Download the HeBStrategy Q2 2017 whitepaper to learn about:
What's Trending in Hospitality: Stay up-to-date on what will affect hoteliers over the next few months, including the massive booking traffic coming from brand loyalty program members, the need to stay cautious of your hotel's ads appearing on pages with offensive and extremist content, and the busy summer season hoteliers should begin planning for.
Guest Recognition Programs: Regardless of budget, hoteliers should implement a guest recognition program to give travelers access to exclusive perks and rates, which can help you "own" your guest. Find out how tools such as Reservation Abandonment Applications and Facebook Lead Ads can help you strengthen loyalty amongst past, present, and future guests.
Industry Insights You May Have Missed: Catch up on the highlights and takeaways from Q1 by looking through our recent articles, blog posts, and press releases.
Metrics that Matter: Dive into the key findings derived from our portfolio of thousands of hotel properties to see how yours compares. We'll give you the scoop on important trends and the best practices that will help you capitalize on them, from secure payment guarantees to Google Display Network campaigns.
A Look Outside the Industry: Sometimes all you need is a fresh perspective. HeBS Digital gathered unique campaigns and initiatives from industries outside of hospitality and broke down what exactly made them pop. Be inspired and create engaging new content that will put "heads in beds".
Access these insights and more when you download HeBS Digital's Q2 2017 HeBStrategy whitepaper.