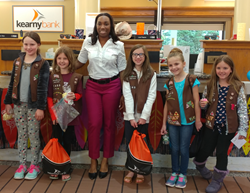 Point Pleasant, NJ (PRWEB) April 30, 2017
Brownie Girl Scout Troop #1403 recently received a behind-the-scenes tour of the Point Pleasant Branch of Kearny Bank. The visit included stops at the money-counting and currency-counting machines, the bank vault, the "other side" of the ATM machine, and the drive thru cameras which play a crucial role in branch security. The girls also learned how the bank operates along with the duties of each member of the banking staff.
"It's never too early to start teaching our young visitors about banking & financial literacy," Audra Burghard, Assistant Vice President & Point Pleasant Branch Manager said. " And maybe, one day we may open accounts for our little visitors," she added with a smile.
Kearny Bank, a federally-chartered stock savings bank, has supported the communities it serves since 1884. The Bank has assets of $ 4.8 billion and operates 42 full-service banking offices in Northern and Central New Jersey and Brooklyn and Staten Island, New York.