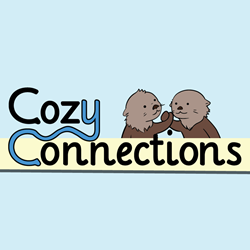 Sea otters hold hands when they sleep so they don't float away from each other. And that's why we've created Cozy Connections--so you don't drift apart.
New Hampshire (PRWEB) April 28, 2017
Today Cozy Connections launches its crowd funding campaign for its Event Boxes on Kickstarter. CC's Event Boxes represent a new and unique, yet simple and effortless way to keep in touch with distant loved ones, enabling users to create a high-touch experience in a high-tech environment.
https://www.kickstarter.com/projects/1145931797/cozy-connections-event-boxes
Cozy Connections introduces Event Boxes, which offer the materials needed for a complete shared experience between friends and family members. Starting with Tea Time, Spa Day, and Movie Night, Cozy Connections has designed its offerings to create moments of peace and connection in an increasingly frenetic world.
"Our friends and family members are precious to us, whether they live next door or half a world away," says Linda Ruth, Founder at Cozy Connections. "But regularly scheduled calls can't take the place of actually doing things with people. We've spoken with adult children continents away from their parents; with grandparents who long to find new ways of connecting with their growing grandchildren. To keep a relationship alive and healthy, it's important not just to revisit old memories but also to create new ones. That's what Cozy Connections has created—a way to create experiences together, even when far apart."
Cozy Connections makes that process effortless, from scheduling an event for two or more participants, to sending out invitations and reminders, to providing the items needed: teas and treats, nail polish and face masks, or cozy slippers and snacks for movie night.
"Our mascots, Connor and CeeCee, are sea otters," Amy Spitzfaden, Founder at Cozy Connections, explains. "Sea otters hold hands when they sleep so they don't float away from each other. And that's why we've created Cozy Connections—so you don't drift apart."
Launch boxes:
o Tea Time
o Spa Day
o Movie Night
o And many more to come!
You can back Cozy Connections on their Kickstarter page now, with event boxes available starting at $40 for Early Bird adopters.
Cozy Connections is based in Peterborough, New Hampshire, USA. Founders Linda Ruth, Amy Spitzfaden, and Ravi Both, management consultants with years of business experience, lead the team. Passionate entrepreneurs who have supported dozens of businesses launching hundreds of digital and print publications, they were inspired by stories of the challenges and successes of 21st century relationships.
PR Contact:
Name Amy Spitzfaden-Both
Email amy(at)cozy-connections(dot)com
Phone # (603) 809-3636
Twitter @cozyconnections
Skype @lindaji108 (Linda Ruth)