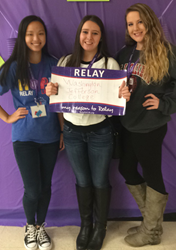 This has been a really great example of a community need and a student interest, and the collaboration that comes from that - Justin Dandoy, W&J Director of Community Engagement
(PRWEB) April 30, 2017
Washington & Jefferson College (W&J) hosted Relay for Life April 29, an initiative of W&J's recently-founded chapter of Colleges Against Cancer (CAC), an affiliate program of the American Cancer Society.
A dozen teams from W&J and the local community came together at Cameron Stadium Saturday to walk, promote awareness, and raise funds for the American Cancer Society, an organization for which freshman Halie Ankeny '20 holds great passion. Ankeny is the student behind both the Relay and the founding of CAC at W&J, both initiatives that add to the College's strong record for service and community support.
"My motivation was the impact cancer has had on my family," Ankeny said. "I was surprised to hear that W&J did not have a Relay For Life. To follow my passion of making an impact in the world of cancer, I spoke with our American Cancer Society partner over the summer, and in the fall I started the club."
W&J's new chapter of CAC, like others in the country, is partnered with the American Cancer Society and its mission is to promote cancer awareness on campus and raise money for the Society. The Washington, Pa. office of the American Cancer Society helped organize Saturday's Relay for Life. Although the College has participated in similar events, Saturday's Relay is the first hosted and organized by a W&J student group.
Justin Dandoy, director of Community Engagement at W&J, said the CAC has had a big impact on campus and in the community in the short time since it was established.
"This has been a really great example of a community need and a student interest, and the collaboration that comes from that," he said. "There was interest in hosting Relay for Life here, and Halie brought a great deal of leadership to the project. CAC was just established this past fall, and to already have the first Relay this spring that is so significant in scale is really impressive."
In addition to planning the Relay, student CAC members also held several smaller events during the year, including the fundraiser Relay Rush Week, and the anti-smoking awareness event National Smoke Out in the fall. Members also did outreach events with Washington Cancer Center at Thanksgiving.
Ankeny is looking ahead to where her club will go next. She hopes the club will flourish at W&J for years after she graduates, and will make an impact on the world of cancer awareness.
"For the future of the club, I see expansion. My goal for next year is to have even more involvement and a higher donation goal," Ankeny said.
About Washington & Jefferson College
Washington & Jefferson College, located in Washington, Pa., is a selective liberal arts college founded in 1781. Committed to providing each of its students with the highest-quality undergraduate education available, W&J offers a traditional arts and sciences curriculum emphasizing interdisciplinary study and independent study work. For more information about W&J, visit http://www.washjeff.edu, or call 888-W-AND-JAY.