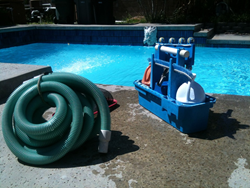 We have had a 96% customer retention rate or higher since 1996.
Atlanta, Georgia (PRWEB) April 28, 2017
Atlanta-based pool service provider Pinnacle Pools is expanding in preparation for Spring's busy season. In addition to two service vehicles added this past year, the business recently hired Andres Salazor, a new technician based out of the John's Creek office.
The two vehicles recently acquired by Pinnacle Pools include a Ford Transit Van and a Mercedes Sprinter. Both allow the Pinnacle team to service its clients with a wide array of repair, maintenance, and installation services. "The size of the van is great," says Pinnacle Pools technician, Chris Dowdell. "I can haul about anything to get any job done. It's roomy for plenty of storage for parts and tools. It's highly convenient for the type of work that I do."
Both vehicles offer storage space for parts and tools often needed on the job. Pinnacle Pools frequently works in and around Atlanta to provide pump repairs, filter repairs, and to service heaters, cleaners, auto-controls, and pool plumbing. "Unlike a lot of pool service companies, we don't force clients to sign a contract or try to add in hidden fees at the last minute," explains Dowdell. "At Pinnacle, what you see is what you get."
By offering lightning-fast service and a comprehensive set of solutions for both commercial and residential pools, Pinnacle Pools has become one of the best-known pool companies in the Atlanta area. "We have had a 96% customer retention rate or higher since 1996," says Dowdell. "Not many companies can say that. We're really proud of the work ethic that got us here."
The Pinnacle team is ramping up operations and scheduling regular maintenance and cleaning in advance of the busy spring season. "Spring is always our busiest time of year," says Dowdell, "so we advise all of our clients to make their appointments as soon as possible to ensure we've got plenty of time to get their pool up and running before summer."
With the two new vehicles and experienced repair technicians to match, Pinnacle Pools is ready for the Georgia heat. "It's been a mild winter!" exclaims Dowdell. "I'm betting people are going to be using their pools even earlier than usual this year."
Pinnacle Pools has two locations in metro Atlanta: John's Creek and Suwanee. Its fleet of mobile repair vehicles offers pool inspections, pool repairs, and regular pool maintenance to home and business owners alike at competitive prices.
To schedule your own pool inspection or repair, visit Pinnacle Pools at http://www.PinnaclePoolServices.com or call (770) 945-6360 today.