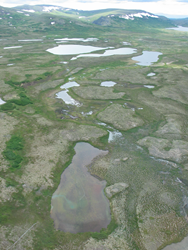 How often does a conference come around that truly breaks new ground?
Middleburg, VA (PRWEB) April 30, 2017
How often does a conference come around that truly breaks new ground, with the potential to be remembered as a seminal event? Featuring trailblazers in the emerging science of aquatic systems connectivity – Charles Hawkins, Utah State University; Catherine Pringle, University of Georgia; Jeffrey McDonnell, University of Saskatchewan, Canada; and Patrick Halpin, Duke University, the American Water Resources Association's Spring Conference "Connecting the Dots: The Emerging Science of Aquatic System Connectivity," April 30-May 3, 2017, at Snowbird Ski and Summer Resort in Utah, has all the makings of just such a conference.
See the full conference program on the conference website, or by downloading the AWRA Conferences app from the App Store or GooglePlay.
As our world continues to realize the interconnectedness of everything, so too, have researchers recognized the importance of ecological, hydrological, and biogeochemical connections among individual aquatic systems. Understanding these connections and their functions requires research to "connect the dots" by examining how individual ecosystem components connect, interact, and affect other ecosystems across space and time. Add to that regulatory, social, political and cultural elements and one can see all of the potential and impact of this emerging science. AWRA's conference will bring together the premier researchers and thought leaders in aquatic systems connectivity to present their pioneering work and state-of-the-art assessment techniques.
About AWRA
Since 1964, American Water Resources Association, the premiere multidisciplinary association for water resource managers, scholars and students, is dedicated to the advancement of water resources management, research and education, as well as a balanced approach toward solving water resources challenges. AWRA's membership is comprised of professionals who share a common interest in working and learning across a wide range of disciplines focused on water resources policy, practice and education. For more information visit AWRA at http://www.awra.org.