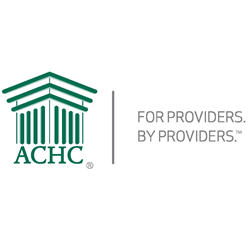 Cary, NC (PRWEB) April 28, 2017
Accreditation Commission for Health Care (ACHC) is excited to announce its new partnership with the Home Care Association of America (HCAOA). This agreement allows HCAOA members to receive special pricing on ACHC's Home Health, Hospice, and Private Duty Accreditation services, as well as discounts on Accreditation University (AU) educational resources that help prepare HCAOA members for ACHC Accreditation.
"The partnership between ACHC and HCAOA is a significant opportunity for HCAOA members to receive savings on accreditation services and educational resources," said Matt Hughes, ACHC Director, Business Management & Customer Service. "The commitment HCAOA has demonstrated to protecting seniors by setting high industry standards and representing members' interests among policymakers is well-aligned with ACHC values. We are very pleased about the partnership."
HCAOA is the home care industry's leading trade association currently representing over 2,500 companies that employ more than 500,000 caregivers across the United States. HCAOA serves as the home care industry's unified voice in Washington, D.C. and state governments across the county.
"We are excited to be partnering with ACHC to build awareness for the importance of accreditation and to add this discount to our toolkit for our members," said Phil Bongiorno, HCAOA Executive Director.
ACHC is a non-profit accreditation organization that has stood as a symbol of quality and excellence for 30 years. ACHC offers nationally recognized accreditation services for home health, hospice, and private duty agencies. The organization has Centers for Medicare & Medicaid Services (CMS) Deeming Authority for Home Health, Hospice, and Durable Medical Equipment, Prosthetics, Orthotics, and Supplies (DMEPOS), and a Quality Management System that is certified to ISO 9001:2008. ACHC's consultative approach to accreditation is designed to improve the quality of patient care while enhancing business efficiencies through service-specific standards and industry-based best practices. Throughout the entire accreditation process, ACHC is dedicated to delivering the best possible experience.
For more information on ACHC's Accreditation programs, or to download ACHC Accreditation Standards, please visit http://www.achc.org or contact customerservice@achc.org or 855-937-2242.