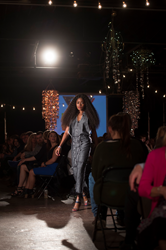 Salt Lake City, Utah (PRWEB) April 28, 2017
Salt Lake Community College Fashion Institute's annual Senior Collections Fashion Show will be April 29, 6 p.m. in the Atrium at SLCC's South City Campus, 1575 South State Street, Salt Lake City. The event, dubbed "Untitled," will feature art installations, alumni showcases and live performances.
This year's senior collections runway event will feature 12 student designers: Doris Marquez, Lisa Patrice Caldwell Glick, Shelley Felten, Mason-Emery Neufeld, Linda Lechtenberg, Zack Hess, Julia Sullivan, Kami Rosen, Madeline J. Huntsman, Megan Rogers, Rachel Rothenberg and Karlie Bordinko.
Tickets are $20 for general public and $10 for students and are available through EventBrite.com.
Salt Lake Community College is an accredited, student-focused, comprehensive community college meeting the diverse needs of the Salt Lake community. SLCC's Fashion Institute, coordinated by Mojdeh Sakaki, is a training ground for diversely talented fashion designers and merchandisers. Home to more than 60,000 students each year, the College is Utah's leading provider of workforce development programs. SLCC is also the largest supplier of transfer students to Utah's four-year institutions and a perennial Top 10 college nationally for total associate degrees awarded. The College is the sole provider of applied technology courses in the Salt Lake area, with multiple locations, an eCampus, and nearly 1,000 continuing education sites located throughout the Salt Lake Valley. Personal attention from an excellent faculty is paramount at the College, which maintains an average class size of 20.