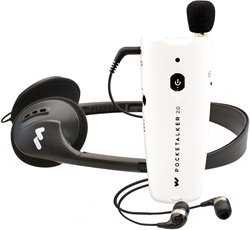 Eden Prairie, Minnesota (PRWEB) May 01, 2017
In honor of Better Hearing and Speech Month, Harris Communications, Inc. reminds everyone to have their hearing screened and to not ignore hearing loss.
It is estimated that 20 percent of Americans have hearing loss, but 80 percent of people who could benefit from hearing aids do not buy them. The high cost of hearing aids is one of the main reasons people put up with hearing loss. Many people are unaware of other hearing loss solutions that can be used as an affordable alternative to hearing aids or as a supplement to hearing aids. These solutions, called assistive listening devices or ALDs, range in price from $75 to $300.
Harris Communications offers a wide range of assistive listening devices, including amplified and captioned telephones, personal amplifiers, cell phone accessory amplifiers, and TV listeners that allow the hard of hearing to enjoy their favorite shows without disturbing others. Harris Communications also offers bedside tinnitus maskers that drown out the annoying ringing in the ears that often accompanies hearing loss, preventing sufferers from getting a restful night's sleep. Assistive listening devices and tinnitus maskers can be purchased without a professional exam, but Harris Communications recommends having hearing loss examined by a hearing health professional.
"If you have hearing loss, I guarantee we have a product that can help you, at a price you can afford," said Harris Communications President Ray Harris. "Our assistive listening devices can be used as an alternative to hearing aids, or to supplement hearing aids in situations that can be especially challenging for the hard of hearing, like talking on the phone, having a conversation in a noisy restaurant or hearing your pastor in church.
"Ignoring hearing loss is never a good idea," Harris continued. "It's not just an inconvenience. It can lead to isolation and depression, and studies by Johns Hopkins University have found that seniors who have untreated hearing loss are significantly more likely to develop dementia."
Find Out More
Harris Communications provides thousands of products for the Deaf and hard of hearing. For more information, visit http://www.harriscomm.com, or call 952-388-2152 (video phone) or 1-877-539-7445 (voice) to request a free catalog. The experts at Harris Communications can help those with hearing loss select solutions to meet their needs. Harris Communications offers free shipping and returns in the 48 contiguous states.
About Harris Communications, Inc.
Based in Eden Prairie, Minnesota, Harris Communications, Inc. is a leading supplier of hearing loss solutions for people with all levels of hearing loss. Since its founding in 1982 by Dr. Robert Harris, himself a member of the Deaf community, Harris Communications has helped millions of deaf and hard of hearing customers enjoy their lives to the fullest by providing expert advice and a wide range of more than 2,000 assistive devices and educational resources. The company's product line includes alerting devices, phone and TV amplifiers, personal amplification systems, tinnitus maskers, books and media and much more. Harris Communications also supplies ADA compliance products and hearing protection equipment.