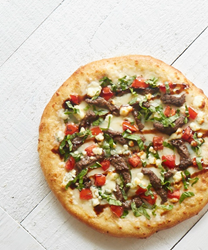 "Uncle Maddio's fresh ingredients and homemade pizza, will be a winner in Castle Rock," said Criag Tappin, Uncle Maddio's franchisee.
Castle Rock (PRWEB) April 29, 2017
Restaurant entrepreneur Craig Tappin has returned to his Denver-area hometown to build a pizza empire. Tappin will open the first of three new Denver-area Uncle Maddio's Pizza restaurants beginning in Castle Rock on April 28. The restaurant, which features Uncle Maddio's new design, is located at 3990 Limelight Avenue at the corner of Meadows Parkway. The Castle Rock restaurant will be the third Denver-area Uncle Maddio's restaurant. The first two Uncle Maddio's are in Westminster and Aurora.
To mark the occasion, Uncle Maddio's will serve free 10-inch, create-your-own, three-topping pizza to guests in line from 11 a.m. to 2 p.m. on Saturday, April 29, 2017. All pizzas made during their training period (approximately 1,000 pies) will be donated to local charity and given throughout the community.
What: Grand Opening Celebration of the first Uncle Maddio's Pizza in Castle Rock, CO
When: April 29, 2017
Where: 3990 Limelight Avenue at the corner of Meadows Parkway
Celebration activities include:

Free 10-inch, three-topping pizza giveaway from 11 a.m. – 2 p.m. on Saturday, April 29
Sign up for the loyalty program and get a free pizza and additional great offers
This is Tappin's first Uncle Maddio's restaurant but not his first foray in the restaurant industry. He has spent his career working for iconic restaurant brands such as McDonald's and Einstein Bagels. At McDonald's, Tappin was responsible for the launch of the 'i'm loving it' campaign and served as Chief of Staff to the McDonald's President and COO. He also was the Chief Marketing Officer of Einstein Bagels. Tappin returns to the area to bring his extensive experience and best practices to the local restaurant scene.
"After a long career in the restaurant business, I am ready to take on a new challenge as a franchise owner," said Craig Tappin, Uncle Maddio's franchisee. "I was so impressed by the fresh ingredients and homemade pizza, as well as the management team that has set up a franchise operating system designed for success. I knew it was the perfect opportunity for me to bring Uncle Maddio's to my hometown. I have always planned to return to Denver and now is the right time to do so."
"The greater Denver area is an important market for our company," said Matt Andrew, Uncle Maddio's CEO. "Craig Tappin is an experienced restauranteur and well-respected industry leader, which makes the Castle Rock restaurant the perfect place to launch Uncle Maddio's new design."
Uncle Maddio's is the first fast casual pizza brand to introduce a customer journey experience where customers order and pay first. The new design allows flexibility for customers to either order, pay and sit down at their table or order pay and watch their pizza being made in Uncle Maddio's open kitchen.
Guests will use the simplified digital media boards and vibrant food photography to select a Create Your Own, Chef's Creation pizza, salad or Foldwich. The new menu boards allow the restaurant to change the menu according to day parts and offers.
About Uncle Maddio's Pizza
With more than 1,350 Pizza Makers making more than 5,000,000 pizzas a year, Uncle Maddio's Pizza is category leader of the create-your-own, fast casual pizza restaurants. Opening 50 locations in 15 states, Uncle Maddio's has more than 150 units in development. Uncle Maddio's pizzas are customizable, made-to-order, and served up fast for about $8. With four pizza sizes, three types of crusts (including gluten free), seven sauces and 48 fresh toppings, Uncle Maddio's has the freshest and largest menu in the category. The restaurant's unique fast bake ovens offer the most throughput in the industry and can produce 200 pizzas per hour. Uncle Maddio's also serves Foldwiches™ and salads. Uncle Maddio's 'Served with Love' philosophy and is a restaurant for everyone - children and families, college students, the young and the young at heart - and includes extensive community involvement. Based in Atlanta, the Uncle Maddio's management team has 50 years combined experienced in the fast-casual category.
For information on Uncle Maddio's Pizza, visit http://www.unclemaddios.com. Interested franchisees can visit unclemaddiosfranchise.com or contact Jocelyn Blain at franchising@unclemaddios.com.
Twitter: @UncleMaddios
Instagram: https://www.instagram.com/unclemaddios/
Pinterest: https://www.pinterest.com/unclemaddios/
Facebook: https://www.facebook.com/unclemaddios https://www.facebook.com/UncleMaddiosCastleRock/