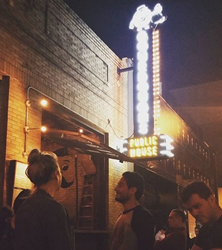 "After years of serving our loyal fanbase downtown we're thrilled to be able to offer options to our customers further North."
Austin, TX (PRWEB) May 02, 2017
In their 8 years of business Gourdough's Public House has eaten too many donuts, and now they're bursting at the seams! They have doubled in size and are too big for their downtown britches, which is why they're pleased to announce their expansion and relocation. Gourdough's Public House Downtown – located at 209 W. 5th Street – will be doubling in size and relocating to an undisclosed location off Burnet Road.
"After years of serving our loyal fanbase downtown we're thrilled to be able to offer options to our customers further North," says Ryan Palmer, co-owner of Gourdough's. They're looking to offer a newly built restaurant, more seating, a full menu and bar, and a much needed parking lot as they expand their reach across the Austin market.
Downtown dwellers and longtime fans of the famous gourmet donut joint have no need to distress, as Gourdough's will remain a downtown fixture with their brick-and-mortar location on S. Lamar Blvd. as well as their food truck located off S. 1st Street.
While they can't disclose the new location just yet, they can say they're BURNin' with excitement.
Much like their donuts, the decision to leave the W. 5th location was both sweet and savory, but Gourdough's is excited to continue growing and serving original food to the people of Austin and beyond. In addition to their new Burnet location keep your eyes peeled for Gourdough's in the San Antonio and Waco, TX areas.
Gourdough's Public House Downtown shut its doors on Sunday night (4/30/17) and the grand opening of Gourdough's newest location is coming soon. Thanks to all of their customers for sticking with them during this transitional period, and helping them through their growing pains. Here's to new beginnings!
Gourdough's Public House Downtown:
209 West 5th Street.
Austin, TX 78701
Gourdough's Public House:
700 S Lamar Blvd,
Austin, TX 78704
Gourdough's Food Truck:
1503 S. 1st St.
Austin, TX 78704