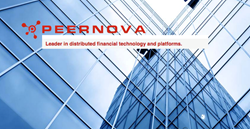 PeerNova helps financial institutions ensure the integrity of their data...
(PRWEB) May 05, 2017
DMG Productions is proud to announce that PeerNova, Inc. (PeerNova) will be featured in an upcoming episode of Innovations w/Ed Begley Jr., airing third quarter 2017 on FOX Business.
PeerNova is a Silicon Valley-based Blockchain-inspired technology company founded by veteran entrepreneurs with deep expertise in distributed systems, networking solutions, Big Data, compiler technology, and financial services.
In this episode of Innovations, audiences will learn how PeerNova drew on inspiration from millennial Blockchain technology and millennia-old recordkeeping practices to develop the first immutable ledger with built-in audit, event lineage, permissioned-access, scale, and other capabilities necessary to help the world's most trusted financial institutions store, secure, and validate their data.
"PeerNova helps financial institutions ensure the integrity of their data, meet constantly rising regulatory and compliance standards, and complete successful audits with fewer resources," said Michael Devine, Senior Producer for the Innovations series. "We look forward to learning more about the latest developments in blockchain technology."
About PeerNova, Inc.
PeerNova combines the best of Blockchain, Big Data, and Cloud to uniquely enable financial institutions to securely and verifiably manage their data and address their reconciliation, audit, and compliance challenges. Based in Silicon Valley, the PeerNova team has expertise in distributed systems, Blockchain technology, networking solutions, compiler technology, Big Data, and financial services. For more information, please visit http://www.peernova.com or contact Navid Jafari, Director of Marketing, PeerNova, Inc. at: navidj@peernova.com.
About Innovations and DMG Productions:
Innovations, hosted by award winning actor Ed Begley, Jr., is an information-based series geared toward educating the public on the latest breakthroughs in all areas of society. Featuring practical solutions and important issues facing consumers and professionals alike, Innovations focuses on cutting-edge advancements in everything from health and wellness to global business, renewable energy, and more.
DMG Productions (responsible for creating the Innovations show) includes personnel specialized in various fields from agriculture to medicine, independent films to regional news and more. Field producers work closely with experts in the field to develop stories. This powerful force enables DMG to consistently produce commercial-free, educational programming that both viewers and networks depend on.
For more information visit http://www.InnovationsTelevision.com or contact: Michael Devine at (866) 496-4065 or info@InnovationsTelevision.com.