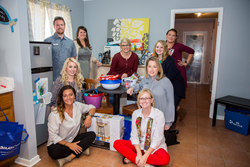 This move is a major upgrade for us. We have more space than we've ever had and we'll be able to accommodate the anticipated growth of our council members. - Heather Griffin, Manager of Coordinated School Health
Henderson, Tennessee (PRWEB) May 02, 2017
Chester County High School's Health Council opened their new home--Eagles' Edge--to more than 100 guests for a recent tour. With more than 4,500 square feet, the former restaurant located behind the high school on Old Jacks Creek Road will be office space for Heather Griffin and Amy Eads. Griffin is the sponsor of the Health Council and manager of the Coordinated School Health Program while Eads is the director of the Family Resource Center.
In addition to hosting health council meetings and team- building activities, the Eagles' Edge space will be the site of school meetings and in-service trainings. "This move is a major upgrade for us," Griffin said. "We have more space than we've ever had and we'll be able to accommodate the anticipated growth of our council members."
Griffin expressed gratitude to the Chester County School Board and its Director of Schools for championing the project. "The Eagles' Edge happened because of their trust and support given to us. They were really involved and we're so appreciative of them. We can only continue to offer our services and expand because of their investment," she said.
The work to prepare Eagles' Edge required a weekly commitment from volunteers. The groups cleaned the yard and painted the interior. The work began October 2016 and was completed in April. Some of the businesses and groups donating labor and/or services were Leadership Chester County, Southwest Human Resources, Servpro and Superior Landscaping.
Griffin added, "The Henderson-Chester County Chamber provided 10 laptops and Freed-Hardeman University donated furniture the school was no longer using."
The new space also includes a room that has been transformed into a walk-in closet to hold school uniforms for students in need, a full-size kitchen and a recreational and meeting room with a Ping-Pong table.
Health Council member Noah Griffin volunteered during the six-month effort to open Eagles' Edge. "I painted some and helped work in the yard," Griffin, a rising freshman, said. "It's mind-blowing to see the finished work and how it all progressed."
The health council is finishing another successful year of anti-smoking and kindness campaigns. "My favorite thing this year was filming the anti-smoking film and meeting different people," Sam Phillips, a rising freshman, said.
A rising senior, Brennan Phelps, believes the council's agenda spreads positivity. "I feel like the council helps students feel better about themselves," he said.
The Student Health Council began in 2008 to promote five areas of total personal fitness: mental, physical, social, emotional and spiritual. Students are selected to participate based on teacher recommendations.
Eagles' Edge will be open 8 a.m. to 3 p.m. Monday through Friday. Eads and Griffin can be contacted at 731-989-5148 or amy.eads(at)chestercountyschools(dot)org and heather.griffin(at)chestercountyschools(dot)org.