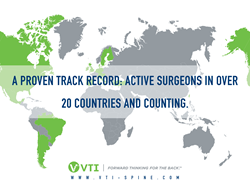 (PRWEB) May 04, 2017
VTI – Vertebral Technologies, Inc. a MIS spinal implant medical device company based in Minneapolis, MN, has partnered with the Turkish Medical Distribution company Medikon to distribute its InterFuse® product line in Turkey. Medikon will serve as an extension to VTI to meet the growing demand of high quality spinal fusion products in Turkey.
"We are excited to start working with Medikon, the company has been serving the Turkish spine surgeon community since 1995 with highly differentiated products and I'm convinced they will do an excellent job selling the InterFuse® product line," says VTI's Vice President of International Sales Ben Wasscher.
Sinan Kazmaci Managing Director of Medikon stated, "At Medikon we are excited to be working with the InterFuse® modular cage. When we presented the product to our most important surgeons, there was a great deal of enthusiasm and excitement for the product. Surgeons thought that the modular approach to achieve a large footprint through a small access channel was a great idea and many of them are keen to start with InterFuse®, especially for their more challenging patients."
ABOUT MEDIKON
Medikon Ltd. Was founded in 1995, and is active in the field of spinal surgery, neurosurgery and orthopedic surgery products. Medikon is the foremost distributor of unique spinal products manufactured by some of the world's leading companies. The company employs close to 100 people operates with 7 branches and 15 dealers all over Turkey including Ankara and İstanbul. Learn more about Medikon here: http://www.medikon.net/
ABOUT VTI'S INTERFUSE® SPINAL FUSION SYSTEM
VTI's InterFuse® System is an intra-operative assembly technology, which allows surgeons to implant a large footprint device through a minimally invasive approach. The shape of each device is biomechanically optimized to match the contours of the endplate and the unique anatomical shape and size of each patient's disc space. Learn more about VTI's InterFuse product here: http://www.vti-spine.com/product/interfuse/
ABOUT VTI - VERTEBRAL TECHNOLOGIES, INC.
VTI - Vertebral Technologies, Inc. is a privately held company based in Minneapolis, MN, USA. VTI is dedicated to the design, development, manufacturing and marketing of medical devices to address painful conditions of the spine through less-invasive surgical approaches. VTI's products utilize its unique modular-assembly technology to deliver solutions optimized for both surgeons and their patients. VTI sells its InterFuse® modular interbody fusion devices worldwide. Learn more about VTI here: http://www.vti-spine.com/
For more information, visit: http://www.vti-spine.com or contact Brian Thron at marketing(at)vti-spine(dot)com or + 1.877.912.5401.