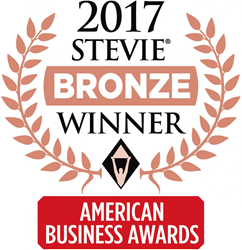 We're proud to add this accomplishment to a long list of reasons why PayJunction is a great company to partner with.
Santa Barbara, California (PRWEB) May 03, 2017
PayJunction received a bronze Stevie® Award for the Customer Service Department of the Year - Financial Services & Real Estate category in the 15th annual American Business Awards. More than 3,600 nominations were considered across numerous industries and award categories.
Committed to building a business that truly helps people, the support team at PayJunction streamlined processes to maintain a high quality of service during two new product rollouts.
To smoothly transition customers to a new EMV- and NFC-ready credit card terminal and revamped financial software, the PayJunction customer support team automated shipment, installation and support for new merchants; extended support hours; and moved to ZenDesk for better end-user communication and ticket tracking. As a result, the support team achieved a 1.3 hour first-reply time and 94.2 satisfaction score while facilitating product deployment.
"We're honored to be recognized by The American Business Awards as one of the top customer service departments in the country," said Alex Estrada, operations manager at PayJunction. "PayJunction is dedicated to building long-term relationships over short-term profit. Our award-winning customer support team personifies this principle and is truly deserving of this award. We're proud to add this accomplishment to a long list of reasons why PayJunction is a great company to partner with."
More than 190 professionals worldwide participated in the judging process to select this year's Stevie Award winners.
"Each year the judges find the quality and variety of the nominations to be greater than the year before," said Michael Gallagher, president and founder of the Stevie Awards. "The 2017 competition was intense and every organization that has won should be proud."
Details about The American Business Awards and the list of 2017 Stevie winners are available at http://www.StevieAwards.com/ABA.
About PayJunction
Founded in 2000 by three UCSB graduates without a single dollar of outside investment, PayJunction has gone from bootstrapped to $3 billion in annual processing. At PayJunction, we believe in integrity over profits. We're disrupting our industry with transparency and environmental consciousness. We process payments ethically.
About the Stevie Awards
Stevie Awards are conferred in seven programs: the Asia-Pacific Stevie Awards, the German Stevie Awards, The American Business Awards, The International Business Awards, the Stevie Awards for Women in Business, the Stevie Awards for Great Employers, and the Stevie Awards for Sales & Customer Service. Stevie Awards competitions receive more than 10,000 entries each year from organizations in more than 60 nations.
###