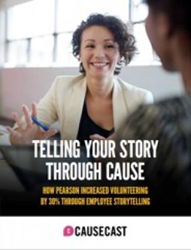 Pearson, the world's learning company, selected Causecast to grow their employee-driven social impact program.
(PRWEB) May 03, 2017
In order to better engage 35,000 employees in 70 countries, Pearson selected Causecast in 2015 to grow their employee-driven social impact program.  As an education company, Pearson values social impact and volunteering, as their mission is to help people make progress in their lives through learning.
Pearson uses Causecast to engage their employees in what makes Pearson a special place to work, and help the business reach more customers and learners as a trusted partner. Employees use the Causecast platform to make volunteering and giving a social and
interactive experience with full transparency around reporting.
One of the most compelling aspects of Pearson's social impact work is their active promotion of storytelling around their volunteering and giving program.
Last September, the company launched a campaign providing incentives for employees to share their impact stories - making use of gamification and rewarding people with 'badges' and 'points' on its employee collaboration site.
Dasle Kim, Employee Participation Manager, notes, "This campaign helps employees understand that as an education company, helping people is core to what we do. It's about working as a team and giving back to the communities where we live and work."
"Causecast helps you log volunteering hours, make the most of Dollars for Doers, find opportunities, post photos about your volunteering - the list is endless," Kim notes.
For the full case study about how Pearson utilized storytelling to create impact and engagement, see here: https://www.causecast.com/case-study-telling-your-story-through-cause
The case study includes information on how you can:

Leverage storytelling to get the most value from your social impact program
Get benchmarks on employee volunteering activities and results
Increase engagement through purposeful storytelling and purpose
For more about Causecast's social impact solutions, see: http://causecast.com/solutions