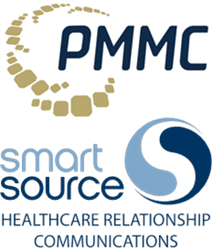 "By combining our patient cost estimation technology with Smart Source's HandHolder™ technology, we offer the healthcare industry a truly comprehensive price transparency solution."
Charlotte, NC (PRWEB) May 08, 2017
Smart Source LLC and PMMC, leading healthcare solution providers, announce today a strategic partnership and to unveil an integrated patient communication platform. The platform is geared towards the needs of both patients and providers and specifically addresses the new price transparency mandate for hospitals.
"Pricing transparency means educating and informing patients of their financial responsibility," said Greg Kay, Senior VP at PMMC. "By combining our patient cost estimation technology with Smart Source's HandHolder™ technology, we offer the healthcare industry a truly comprehensive price transparency solution."
The combination of the two technologies on one platform allows for a single source solution, to eliminate confusion for the patient and expedite the billing process for the provider. With Smart Source's HandHolder™ technology, the platform will guide the patient through the entire lifecycle of a hospital visit, from pre-arrival, medical visit and follow up needs. It provides: time and date of appointment, exact directions, parking information, specific preparation instructions, procedure details, condition information and follow up. With PMMC ESTIMATOR PRO, the platform will include an easy-to-understand patient cost estimate prior to the visit.
"The partnership with PMMC furthers our mission of bettering the communication process in the medical industry," explains Barb McLaughlin, VP Smart Source Healthcare Communications. "By offering PMMC's technology with our HandHolder technology, we are giving the patient complete information from pre-visit appointment to billing, in a way that is easy to understand. This benefits both patient and provider by offering complete transparency on costs and ensuring that the patient is prepared through every step of the medical visit."
The platform is easy to implement at minimal cost to hospitals, doctors and surgeons. Benefits of the platform include:

Allowing patients to understand costs prior to the visit, avoiding confusion and reducing unpaid invoices and the need for collection.
Increased revenue by significantly decreasing no shows/missed appointments as well as improving patient satisfaction scores.
Increased productivity by allowing clinicians and nurses to spend more time focused on patients and less on paperwork.
PMMC and Smart Source LLC will begin rolling out the platform immediately to healthcare providers – especially those in states where price transparency legislation is in the process of being enacted, such as Florida and Ohio.
About Smart Source LLC
Smart Source is a premier Brand Management BPO and Technology provider dedicated to delivering comprehensive communications and marketing solutions to a diverse network of clients ranging from healthcare to finance, retail, hospitality and manufacturing. Visit http://www.hand-holder.com for more information.
About PMMC
PMMC provides high value revenue cycle software and services to improve the financial performance of healthcare organizations. Our software and expertise focuses on payment accuracy and identifying more revenue opportunities across the revenue cycle.
PMMC helps hospitals identify underpayments and denials, increase price transparency, and manage bundled payments. Clients see, on average, a 10 to 1 return on investment with software and services. Visit http://www.pmmconline.com for more information.