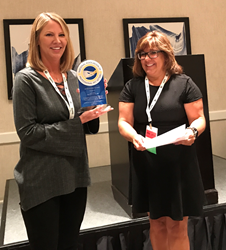 "She truly sets the standard of professionalism that the entire industry should model itself after." Erin Fenstermaker, Principal at EF Consulting, talking about 2017 NAPPS Business of the Year winner Joette White from Park Cities Pet Sitter
Dallas, Texas (PRWEB) May 08, 2017
Joette White, owner of Dallas and Plano pet sitting company Park Cities Pet Sitter, traveled to Chicago this past week to collect her award as the 2017 National Association of Professional Pet Sitters Business of the Year. While the award announcement had been made at the beginning of 2017, it is NAPPS' practice to have the award presentation occur at the annual conference attended by many of the winners' fellow business peers. Yvette Gonzalez, President of NAPPS, presented the award to White during the conference on Friday, May 5th.
"I am so happy to be able to receive this award with so many of my friends and peers in the audience," said White. "I have met many other business owners in the pet sitting industry through the NAPPS association that I have come to rely on for support and guidance. Having other business owners in other markets that I can ask questions of and brainstorm with on a variety of issues has been so valuable to me and Park Cities Pet Sitter over the years. These relationships have helped me improve my business, so having these friends in the audience as I am presented with the industry's highest honor is incredibly humbling."
Pet industry consultant, Erin Fenstermaker of EF Consulting, was one of the speakers at this year's NAPPS forum and also happens to count White as one of her long-time clients. Fenstermaker said that watching White win the NAPPS award was one of her proudest business moments. "Joette has done so much work to build Park Cities Pet Sitter into a large, healthy and impressively run business," said Fenstermaker. "Her commitment to continuous improvement and excellence is why she deserved to be NAPPS' 2017 Business of the Year. She truly sets the standard of professionalism that the entire industry should model itself after."
Despite just winning the NAPPS 2017 Business of the Year award, White is still eager to take many of the things she learned at this year's Forum and implement them after she returns home. "There is definitely no resting on my laurels," said White. "Park Cities Pet Sitter has come a long way in the 17 years I have owned the business, but I know that even greater things are in our future. So I can't stop improving now!"
About Park Cities Pet Sitter: PCPSI has served the Dallas/Plano areas 7 days a week, 365 days a year since 1992, and was recently named the 2017 Business of the Year by the National Association of Professional Pet Sitters. Pet sitting, daily dog walks, pet taxis, overnight sitting, pet supply shopping and dog training are all part of the services PCPSI offers. Park Cities Pet Sitter is bonded and insured, and all sitters are employees--not independent contractors. A manager is on-call 24 hours a day to handle any emergencies. Go to http://www.pcpsi.com to learn more.