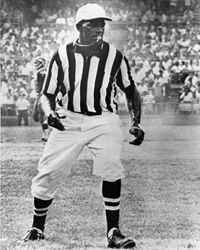 "This dedication helps ensure that future Dons will learn [Toler's] name and his story, and that Toler's legacy will live in the heart of our campus, in the heart of our city."
San Francisco, Calif. (PRWEB) May 08, 2017
Tomorrow, May 9, the University of San Francisco will dedicate Burl A. Toler Hall, renaming the student residence, Phelan Hall, in honor of Burl Toler '52, MA '66. Toler was the co-captain of USF's famous 1951 football team, the first African-American official in a major American professional sports league, and a noted Bay Area educator.
To commemorate the event and what would have been Toler's 89th birthday, San Francisco Mayor Ed Lee has pronounced May 9, 2017 as Burl A. Toler Day in San Francisco.
The dedication of Burl A. Toler Hall is the culmination of an effort by USF students and the university's administration to address the complex historical legacy of James D. Phelan, and celebrate the memory of a hometown hero, who was co-captain of the undefeated 1951 USF football team. A team that many argue was the best collegiate football team of all time, the 1951 Dons unanimously refused to leave the team's two African-American players behind and opted out of all post-season bowl games. Toler went on to make sports history as the first African-American official in the National Football League.
"The USF community of students, faculty, staff and alumni is proud to recognize our distinguished alumnus, Burl A. Toler," said USF President Paul Fitzgerald, S.J. "This dedication helps to ensure that future Dons will learn his name and his story, and that Toler's legacy will live in the heart of our campus, in the heart of our city."
Toler received a Bachelor of Science, teaching credentials, and a master's in educational administration from USF. In 1968, Toler became San Francisco's first African-American secondary school principal, taking the helm of Benjamin Franklin Middle School, where he remained for 17 years. The school's Western Addition campus was dedicated to Burl Toler in 2006 and is now the home of Gateway Public Schools. Toler served as a member of the University of San Francisco Board of Trustees from 1987-1998, and as a San Francisco Police Commissioner from 1977-1986.
James D. Phelan was mayor of San Francisco from 1897-1902 and a U.S. senator from California from 1915-21. Despite his public service and contributions to the growing city, he was a leader in the anti-Japanese movement, and used fervent anti-immigration rhetoric in his campaigns for political office. He was an 1881 graduate of the University of San Francisco (then called St. Ignatius College). The student residence hall, USF's first, was named for him when it was built in 1955.
"It is gratifying to see the vision and values of our community more concretely reflected in the name of a student residence hall," said Shaya Kara, president of the Associated Students of USF (ASUSF). "In memorializing Burl Toler, we are recognizing an alumnus whose story helps propel our commitment to social justice and community engagement."
Following several years of discussion and protest about Phelan's name on the residence hall, the student senate, ASUSF, passed a resolution to rename the hall. The university is exploring opportunities to address Phelan's complex biography.
"We can not scrub Phelan from our history, nor turn away from the complexity of his story," said Fr. Fitzgerald. "Phelan used xenophobia to gain political office, and then worked for the reconstruction of the city following the earthquake and fire of 1906. It's important that our community recognizes that the temptation to run campaigns built on racism and fear of immigration, which was typical of Phelan's era, continues to exist today around the world."
The one-hour dedication ceremony will include a welcome by President Fitzgerald and remarks by members of the Toler family, USF Senate President Kara, and Bill Henneberry, a member of the renowned 1951 football team.
For more information or to attend the dedication ceremony, please contact Jennifer Kriz at (415) 422-2697 or jkriz(at)usfca(dot)edu.
###
About the University of San Francisco
The University of San Francisco is located in the heart of one of the world's most innovative and diverse cities and is home to a vibrant academic community of students and faculty who achieve excellence in their fields. Its diverse student body enjoys direct access to faculty, small classes, and outstanding opportunities in the city itself. USF is San Francisco's first university, and its Jesuit Catholic mission helps ignite a student's passion for social justice and a desire to "Change the World from Here." For more information, please visit usfca.edu.