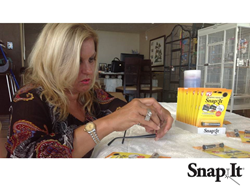 I feel very blessed to have invented something which has helped so many people
Florida, USA (PRWEB) June 21, 2017
The Snapitscrew Eyeglass repair kit is the first improvement to eyeglass repair kits in decades and the company are pleased to announce the product is now available on their new, updated website http://www.snapitscrew.com.
The clever part of the repair kit is the patented Snapit screw which take the pain out of eyeglass repair. Instead of having to use the traditional tiny screws which are hard to hold and handle, the Snapits have a longer feeder tab which act as a guide to makes the whole fix process very easy.
The patented screw has become one of the most talked about products in the optical industry and is used by thousands of optometrists in USA as well as by international optical chains such as Specsavers and Magrabi. The consumer repair kit can be used to fix everything from sunglasses to children's glasses.
The Snapitscrew already has multiple patents granted across USA, Australia, South Africa, Philippines, Russia, Hong Kong and China as well as patents pending in various other territories.
The history behind the creation of Snapitscrew
The product was the brain child of Florida based Nancy Tedeschi who was not originally from the optical industry. Her mother was on a mission trip in Nicaragua and the arms of her eyeglasses fell off. In an attempt to find a quick fix for her glasses she threaded a dangly earring through her glasses hinge to devise a makeshift screw and unexpected fashion accessory. Little did she know but this was to receive her an uncanny amount of attention and being bombarded with compliments from strangers asking her where she bought her "glasses charms" from.
She then challenged her daughter Nancy to invent a similar charm for eyeglasses. During the process Nancy realised how difficult and awkward it was use an eyeglass hinge screw. Each screw took about 25 minutes to insert which is when she had an epiphany and the Snapit was invented.
Since its launch, Snapit has won the top prize and the People's Choice Award at the National Invention Contest sponsored by the Inventor's Club of Kansas City, received the Award of Excellence from the US Optical Laboratories Association, and won both the 2011 award of excellence for the Australia optical association and the 2011 national hardware retailers chose award. The consumer repair kit was also one of three winners in Walmart's 'Get on the Shelf' contest and most recently, Snapit was nominated for the Best Lab Value Enhancer product by the Vision-X Awards two years in a row.
Nancy now spends a lot of time giving back the community helping new inventors and feeding the homeless near where she lives in Daytona Beach.
For further details on the story please contact Snapitscrew inventor Nancy Tedeschi via email info(at)snapitscrew(dot)com
About Snapitscrew
Snapitscrew manufactures and sells the patented Snapitscrew Eyeglass Repair Kit
They have a number of worldwide Patents as follows:-
United States Patent #: 8070403, 8375546, 8556556, 8997327, 9493972
Canada Patent #: 2695751
China Patent #: 2L2008 80102133.2
Philippines Patent #: 1/2010/500274, 1-2010- 500385
Australia Patent #: 2008283850, 2011101044
Russia Patent #: 2493446
South Africa Patent #: 2010/03664
EPO Patent #: EP08782656
Hong Kong #: HK1147791
Notice of Allowance:
Japan
Patents Pending:
Brazil
Korea
India