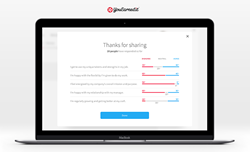 Austin, TX (PRWEB) May 10, 2017
Today, YouEarnedIt, a leading HR SaaS company that improves bottom-line performance metrics by enhancing the employee experience, launched YouEarnedIt Surveys, a new integrated platform functionality that allows employees to provide direct and anonymous feedback to their leadership teams. YouEarnedIt will debut its Surveys feature at the 2017 WorldatWork Total Rewards Conference in Washington, DC, to more than 1,200 HR professionals in total rewards, compensation, benefits and work-life effectiveness.
YouEarnedIt Surveys features two survey types - Simple Pulse and Simple Poll - enabling companies to collect insights and feedback through a combination of pulse checks, polls and employee engagement questions. Surveys builds on YouEarnedIt's goal to help companies enhance company culture, performance metrics and the overall employee experience with a robust all-in-one platform. The data collected through these surveys will not only inform leadership teams of thriving or trouble areas within an organization, but will also give employees a voice in things that contribute to a variety of topics from company culture to relationships with management to behaviors that drive business forward.
"Our goal is to provide clients with a better way to improve the employee experience while maximizing their bottom-line," said Autumn Manning, co-founder and CEO of YouEarnedIt. "One way we do this is by having a laser-focus on what the employee experience of today is, and equipping companies with a comprehensive, flexible platform to help them improve the lives of employees. We're achieving this with our Surveys functionality by giving employees a voice within their company and enabling leadership to create a transparent and collaborative environment from the bottom up."
"Employee feedback is vital for any organization and we saw an opportunity to create a survey tool that allows HR departments to better understand what is going on across the company at large," said C.K. Sample III, Chief Product Officer at YouEarnedIt. "We built Surveys with the intention to give our clients a simple and easy-to-use system built on top of our platform that already has high engagement within their organization. By doing this, we're giving our clients a better way to hear from their internal stakeholders, while saving them time, money and the headache of multiple employee engagement platforms."
In addition to the already comprehensive platform that delivers on recognition, rewards, incentives and team insights, administrators can launch Simple Pulse or a Simple Poll depending on the employee feedback they want to collect:

Simple Pulse: An engagement survey based on a predesigned set of questions which enable companies to measure happiness in the workplace. The questions to measure employee engagement were selected based on the constructs that impact strong culture, lead to deeper engagement in work and enable an employee to feel a sense of personal responsibility for team and company success.
Simple Poll: A custom poll option enabling HR teams to ask open-ended questions on things that influence culture or the employee experience. Simple Poll gives companies the opportunity to uncover key insights on what employees want, what they think about a specific company topic or what their ideas are relating to a certain initiative.
"I've been testing YouEarnedIt Surveys for the past few weeks, and I have to say the ease of use is a huge plus," said Lisa Bridgers, Chief People Officer at Rockfish, a WPP company. "The ability to understand - in real time - how things are being received by employees, whether they are interested in new practices, and how they feel about their work environment is crucial in helping us better engage with our team across the country."
YouEarnedIt is actively working to expand its platform functionalities to create the industry's most innovative technology for businesses to make a lasting impact on culture and employee engagement. To learn more about YouEarnedIt, visit http://www.youearnedit.com.
About YouEarnedIt
YouEarnedIt is the employee experience platform powered by the science of motivation and the mission of improving employees' lives one company at a time. Founded in 2013, YouEarnedIt grows company culture and improves bottom-line performance metrics through its robust engagement platform that delivers recognition, rewards, incentives and team insights. Named to Entrepreneur Magazine's list of Best Company Cultures in 2017, the Austin-based SaaS company and its technology platform center around the four pillars of employee experience: connection, meaning, impact and appreciation. To request a demo, visit http://www.youearnedit.com/demo.