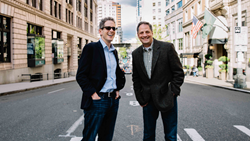 "The potential for brands and retailers on Amazon is enormous, but they need a holistic strategy to succeed." Shane Atchison, CEO of POSSIBLE
(PRWEB) May 09, 2017
POSSIBLE, a WPP Digital agency, announced today the acquisition of Marketplace Ignition, a leading strategy consultancy focused on helping retailers and brands increase their business on Amazon and other marketplaces. With offices in Seattle and Atlanta, Marketplace Ignition has worked with more than 400 brands, representing more than 2 million SKUs and $2 billion in annual retail sales. Their main goal is to establish and grow the eCommerce presence for their clients on Amazon. Launched in 2011, Marketplace Ignition is relentlessly data-driven and uses research and ongoing impact analysis to identify immediate and long-term strategic growth levers for clients including the Hallmark Company, Lifetime Brands, Inc. and Reynolds Consumer Products.
Marketplace Ignition specializes in operational marketing, the science of leveraging product data and channel expertise to optimize brand performance through online channels. With the growth in size and importance of Amazon including Amazon.com, Amazon Media Services, Amazon Prime and other services, operational marketing has become a fundamentally important part of online marketing and very few brands have a core competency in it.
"The potential for brands and retailers on Amazon is enormous, but they need a holistic strategy to succeed. Our clients are increasingly asking us for Amazon expertise and for POSSIBLE to be that one agency to help them solve for all things Amazon," remarked Shane Atchison, Global CEO of POSSIBLE. "Marketplace Ignition has built a leading consultancy with tremendous expertise and relationships with Amazon and we are thrilled to welcome them to the POSSIBLE Commerce team."
As the largest consultancy specifically dedicated to helping brands succeed on Amazon and other online marketplaces, the acquisition of Marketplace Ignition deepens POSSIBLE's expertise and experience in all aspects of the Amazon ecosystem. From supply chain and operations, to assortment planning, operational marketing, content optimization, and search management, the acquisition demonstrates POSSIBLE's commitment to delivering success on Amazon for clients.
"POSSIBLE understands the future of retail and the potential that brands have on Amazon, but Shane and the team also know it requires deep knowledge of the entire Amazon platform and its ecosystem to succeed," said Eric Heller, CEO and Founder of Marketplace Ignition. "Category leadership on Amazon takes dedication, operational excellence and a deep understanding of how data drives sales and market share. POSSIBLE has data in its DNA and this coupled with their award-winning approach convinced me they were exactly the partner we needed to take our organization to the next level. I'm excited for what Marketplace Ignition and POSSIBLE will do together to deliver more value to brands and Amazon customers."
The POSSIBLE Commerce practice helps clients manage Amazon as well as other commerce platforms and unites brand building with sales performance. Led by Frank Kochenash, Global SVP of Commerce, the practice offers a full suite of services and leverages POSSIBLE's deep experience with data and technology to improve efficiency and performance. Marketplace Ignition will operate under the name Marketplace Ignition, A POSSIBLE Commerce Agency and will be led by current CEO and founder, Eric Heller. Eric, Frank and the team will work closely together to bring the power of POSSIBLE Commerce to clients.
About POSSIBLE
POSSIBLE is a creative agency that moves brands by moving people, creating value for consumers, not products. By design, we are visionaries, innovators, and pioneers. We back up every idea with real-world insights to create work that makes a difference—and makes a measurable impact. With more than 1,500 employees around the globe, POSSIBLE brings results-driven digital solutions to some of the world's most dynamic brands, including Microsoft, Procter & Gamble, AT&T, Adidas and ConAgra. POSSIBLE is a WPP Digital agency.
Follow POSSIBLE on LinkedIn: https://www.linkedin.com/company/1915024
Twitter: https://twitter.com/POSSIBLE & https://twitter.com/WORKatPOSSIBLE
Facebook: https://www.facebook.com/POSSIBLE.com
More information is available at http://www.possible.com/commerce
About Marketplace Ignition
Marketplace Ignition is the leading strategy consultancy for helping retailers and brands increase their business on Amazon and other marketplaces. The agency specializes in operational marketing and advises clients on all aspects of eCommerce from sales strategy and merchandise selection, to dynamic pricing and promotion strategy. Data-driven, it uses research and ongoing impact analysis to identify immediate and long-term strategic growth levers. Marketplace Ignition uses deep industry expertise to help retailers effectively compete and win in this increasingly critical channel.
Follow Marketplace Ignition on Linked In.
For more information, please visit marketplaceignition.com