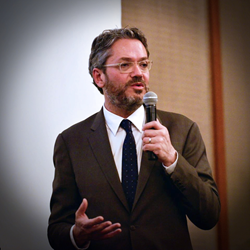 New York, NY (PRWEB) May 09, 2017
Today, Fundamental announced the launch of a crowdfunding campaign to support critical research into psychedelic-assisted therapies in mental health and cognition. This is the first large-scale fundraising campaign with an aim to secure funding for the most advanced US and UK research initiatives in the field.
With one in four Americans currently suffering from a mental health issue, new therapies that offer lasting benefits are needed now more than ever. Although new studies into psychedelics-assisted psychotherapy offer promising relief for a variety of mental illnesses, due to their classification as Schedule I drugs, the research currently depends on the support of a few private donors and institutions.
Fundamental's first campaign plans to raise funds for ongoing studies on psilocybin & end of life distress, psilocybin & alcoholism, and MDMA & PTSD at a number of organizations, including the non-profit Multidisciplinary Association for Psychedelic Studies (MAPS) as well as future studies on LSD microdosing as part of the Beckley/Imperial Research Programme in London.
The Fundamental campaign is the brainchild of Rodrigo Niño, CEO of Prodigy and an accomplished real estate developer in New York. Known for crowdfunding commercial properties in Manhattan and democratizing access to investments for smaller investors from around the world, Niño is now taking a similar approach to philanthropy. He is also a cancer survivor who has experienced the positive effects of psychedelics firsthand.
"At 41, I was diagnosed with stage 3 Metastatic Melanoma, with survival odds about 1 in 3 over the next five years," he said. "We are prepared to know that we will die, but we are never prepared to know when. That is essentially the sum of all fears; it creates a profound traumatic event."
Like many patients with a terminal cancer diagnosis, Niño experienced severe "end-of-life anxiety."
"That near death experience changed me in a number of ways. It opened the door for somebody like me—science driven, rational, numbers driven—to start looking for alternative treatments to ease my suffering when traditional medicine failed me," Niño continued.
He traveled to the Peruvian jungle to partake in an ayahuasca ceremony. After spending a night with a curandero, his fear of dying was gone. Since then, he's been on a mission to find scientific validation to determine what happened to him and has immersed himself into the research of psychedelics in treating mental illnesses.
Once back home in New York, he found Dr. Stephen Ross, Director of Addiction Psychiatry at NYU Langone Medical Center, who recently led an internationally acclaimed study on psilocybin treatment for end-of-life distress in patients with life-threatening cancer.
"After meeting Dr. Ross, I came across research from all over the world from the Beckley/Imperial Research Programme to MAPS, which showed even more potential for a host of other mental illnesses," continued Niño. "I knew then as I know now that this is some of the most important scientific work I had ever come across. I've made it my mission to support scientific research into treatments that can offer real change in the lives of people suffering from mental illness and their families."
Dr. Ross's study found that, when administered under psychologically supportive, double-blind conditions, a single dose of psilocybin produced rapid, substantial and enduring improvements in cancer-related depression, anxiety and existential distress as well as improvements in quality of life.
"Dealing with the reality of cancer is a terrifying experience and it deeply affects patients and their families. Forty to fifty per cent of cancer patients will have diagnosable anxiety or depression," said Ross. "Our initial studies into psilocybin are showing great promise for people suffering from end-of-life depression and anxiety. However, to bring these treatments to patients, it is necessary to conduct a multisite study in a larger and more diverse patient population."
Another study led by Dr. Michael Bogenschutz, Professor of Psychiatry at NYU Langone, and Dr. Ross is investigating psilocybin-assisted treatment for alcohol addiction. The preliminary results have shown strikingly positive outcomes; wherein following the first psilocybin session, percent heavy drinking days and percent drinking days lowered significantly from the baseline level.
"Addiction to alcohol, tobacco, and other drugs is the leading preventable cause of death and disability globally," explained Bogenschutz. "Our proof-of-concept study has shown positive outcomes, but controlled trials will be necessary to evaluate the efficacy of these treatments and bring them to the public, which is why initiatives like Fundamental are so critical."
In a pooled analysis of 103 participants across six Phase 2 studies on improvement in PTSD symptoms after MDMA-assisted psychotherapy, statistically significant differences were found. Twelve months after treatment with MDMA, 68% of participants experienced long-term improvement and did not meet criteria for PTSD. An international team of researchers led by MAPS Founder and Executive Director, Rick Doblin, Ph.D., have completed Phase 2 trials and are working with the FDA to prepare for Phase 3 trials.
"In our Phase 2 pilot studies, we treated over 100 participants who had chronic PTSD and treatment-resistant symptoms. Neither prior medications nor long periods of psychotherapy had worked for them," said Doblin. "If the results of Phase 3 trials, which we're starting this year, are remotely comparable to our Phase 2 results, and if we receive the necessary funding, then we can expect FDA approval by 2021."
Lastly, Fundamental aims to fund a new study focused on optimising LSD microdosing led by Amanda Feilding, Founder & Director of The Beckley Foundation, and Co-Director of the Beckley Imperial Research Programme.
"For decades, we have seen anecdotal evidence that microdosing improves mood and well-being, enhances cognition, increases productivity, and boosts creativity," remarked Feilding. "Now we have the opportunity to undertake the first controlled scientific investigation, including the latest brain imaging technology, into the effects of microdosing LSD, thereby finally establishing whether the claims about its benefits are true."
Fundamental's campaign will be live on the Fundamental website on May 9, 2017. Supporters can choose which of the four studies they wish to donate to. For more information or to schedule an interview with Fundamental spokespersons, contact their PR Agent Borjana Slipicevic at +1.778.858.2595.
Media Contact
Borjana Slipicevic
Proper Propaganda
+1 778 858 2595
borjana(at)properpropaganda(dot)net