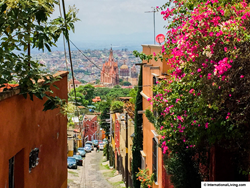 In fact, more than a million expats are estimated to live in Mexico full- or part-time….
Baltimore, MD (PRWEB) May 09, 2017
Mexico is not only the nearest destination abroad for U.S. and Canadian expats, it is also one of the most popular, attracting the largest concentration of North American expats anywhere in the world. In fact, more than a million expats are estimated to live in Mexico full- or part-time.
It's understandable when you consider that Mexico offers just about any climate, geographical landscape, and lifestyle an expat might want. As a result, there are expats scattered all over Mexico. But some places have proven to be especially popular, with an appeal that makes them stand out from the crowd.
And right now, the dollar-to-peso exchange rate (nearly 20 pesos to $1 at time of writing) makes living here now even more of a bargain.
InternationalLiving.com reports on five Mexico destinations where the living is affordable and easy… any one of which could make an ideal expat home. (Plus a few places that haven't made the cut with most expats.)
Riviera Maya
For many North Americans, say "Mexico" and it's white-sand beaches that come to mind. That's not surprising. Mexico has nearly 6,000 miles of coastline, much of it beautiful beach. For those looking for life on the water and under the sun, Mexico offers a lot of choice.
For classic white-sand beaches and turquoise waters, it's hard to beat Mexico's Riviera Maya. This 80-mile stretch of coast runs along the Yucatán Peninsula from Cancún to Tulúm. Little beach towns are scattered all along the coast…and one—Playa del Carmen—has grown to become a city. One of the fastest-growing destinations in Mexico, Playa, as it's known locally, offers a laidback beach vibe…and the upper-end shopping and restaurant scene of a larger city.
"Living in Playa can be very affordable," says International Living's Roving Latin America Editor Jason Holland. "A typical couple can expect to maintain a budget of between $2,000 and $2,500, although it really depends on lifestyle. If you live more like a local, sticking to local markets, typical Mexican restaurants, and Mexican neighborhoods, you can pay much less."
To enjoy small-town (but upscale) beach life on this coast, head to Tulúm. Once the domain of backpackers, Tulúm today attracts fashionistas and other trendsetters who come to get away from it all. In Tulúm, there are rustic, palm-thatched palapas alongside gourmet restaurants…and a beach that's considered one of the world's most beautiful.
Puerto Vallarta
Puerto Vallarta, on Mexico's Pacific Coast, has been an international beach resort for more than 50 years. Once a small fishing village, today the greater Vallarta area stretches for nearly 30 miles along the shores of Banderas Bay, one of the world's largest bays.
This area offers pure First-World living, with shopping, restaurants, and real estate at every price point; an international airport; and a large, international expat community. Beaches and a long malecón (esplanade) border large swaths of the city. And Puerto Vallarta offers plenty to do—from zip-lining and horseback riding in the hills, to fine dining and recent film releases in town.
Merida
For big-city life with the beach a short distance away, there's Mérida. Capital of the Yucatán Peninsula, this city of nearly a million residents lies about 30 minutes from the Yucatán Gulf Coast. It's a cosmopolitan center filled with grand colonial homes and known for its great restaurants and rich cultural offerings.
Close by, small villages dot the placid coast along the gulf. This is where Mérida's middle-class families have summered for generations. Today expats have joined them, but many towns still have a family-oriented feel.
"You'll find plenty of it in the city, but don't look for boutique shopping or dining here on the gulf coast," says International Living Mexico Editor Glynna Prentice. "If, however, you're seeking a laidback beach life at still-low prices, you can find it along this quiet stretch of sandy coast."
Mexico's Central Highlands
Not everyone wants to live on the beach… for temperate weather and Spanish-colonial style, then Lake Chapala or San Miguel de Allende, both in central Mexico, may fit the bill.
Lake Chapala has an enviably near-perfect climate—spring-like almost all year—and a large, diverse expat community. And being near Guadalajara, Mexico's second-largest city, means easy access to its international airport and excellent medical facilities.
San Miguel de Allende, about three hours north of Mexico City, is a beautifully preserved Spanish-colonial town that offers art galleries, gourmet restaurants, a wealth of arts and crafts, and a large expat community.
Places to Skip in Mexico
"No country is perfect, and Mexico has gotten more than its share of knocks," says Prentice. "But yes, some parts of Mexico should be avoided, while others are just not worth your time."
Some Mexican states bordering the U.S.—notably Tamaulipas, Coahuila, and Chihuahua—have vast, empty interiors where expats can be at the mercy of accidents and bad weather. For those who want to drive down into central Mexico or farther south (and many expats do), consider checking routes through other Mexican states like Nuevo León, Sonora, and Baja California.
Acapulco was once one of Mexico's top beach resorts, but age and scattered violence has dimmed the city's glitter. "If you want to stay on the beaches of Acapulco's home state, Guerrero, head north to Ixtapa-Zihuatanejo," Prentice says.
Finally, Tabasco may be a famous hot sauce, but the Mexican state is largely humid, low-lying land. It's the boring, often wet stretch travelers pass if driving from central Mexico to the Yucatán Peninsula. Tabasco's capital, Villahermosa, is a major business city, headquarters of Mexico's oil industry and home to several museums.
The complete story on International Living's picks for retirement destinations in Mexico can be found at: 5 Places to Live in Mexico and 3 to Avoid.
Editor's Note: Members of the media have permission to reproduce the article linked above once credit is given to InternationalLiving.com.
To learn more, please contact InternationalLiving.com Associate Editor, Carol Barron, (772) 678 – 0287, CBarron(at)internationalliving(dot)com.
For 37 years, InternationalLiving.com has been the leading authority for anyone looking for global retirement or relocation opportunities. Through its monthly magazine and related e-letters, extensive website, podcasts, online bookstore, and events held around the world, InternationalLiving.com provides information and services to help its readers live better, travel farther, have more fun, save more money, and find better business opportunities when they expand their world beyond their own shores. InternationalLiving.com has more than 200 correspondents traveling the globe, investigating the best opportunities for travel, retirement, real estate, and investment.