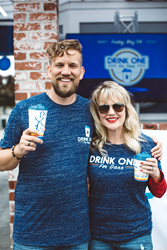 The support shown on Drink One for Dane was truly something special. Together, we raised over $970,000 in one day to continue the fight against ALS.
GRANTS PASS, Ore. (PRWEB) May 10, 2017
On Friday, May 5, Dutch Bros locations in all seven states rallied with its communities to raise $970,037 for the Muscular Dystrophy Association to support ALS research and family services.
"We were blown away last year by our community's support, and raising even more this year is beyond amazing. Our community never ceases to amaze us, and it truly shows by the support they showed on Drink One," said Travis Boersma, Co-founder, Dutch Bros Coffee.
Every year, on the first Friday of each May, Dutch Bros rallies for its annual Drink One for Dane day. A day that began in 2006 after Dutch Bros co-founder, Dane Boersma was diagnosed with Amyotrophic Lateral Sclerosis, or ALS. Drink One for Dane began as a way to raise funds and awareness for a disease that is not well understood.
In 2009, Dutch Bros lost Dane to this unnerving disease. Drink One for Dane has lived on to honor a man whose wisdom and spirit is still very much a part of Dutch Bros' day-to-day operations, as well as to raise funds to support the advancement of ALS research and to support family services.
ALS is an unsettling disease that affects the parts of the nervous system responsible for voluntary muscle control, severely hindering the ability to speak, move or even breathe. Those diagnosed with the disease typically lose their battle within three to five years.
The Muscular Dystrophy Association, better known as MDA, is the world's leader in ALS research. Funds raised on Drink One for Dane benefit this organization as they continue to support families affected by ALS and to further research into this disease for which a cause and a cure are currently unknown.
"How incredibly special that on Drink One for Dane day, the FDA approved the first drug to treat ALS in over 22 years — a proof point reflective of the unprecedented momentum we're seeing in ALS research," said MDA Senior Vice President & Scientific Program Director Grace Pavlath, Ph.D. "On this same special day, the Dutch Bros community came together in honor of Dane and in support of continued progress in the fight against ALS. The incredible results of this year's Drink One for Dane Day are sure to help MDA make the breakthroughs needed to find treatments and cures for ALS."
"It's pretty crazy to think that on the same day there was significant progress made in a treatment," said Travis. "And for me, I am just super grateful."
With the community's support on Friday, Dutch Bros was able to donate $970,037. Making Dutch Bros' total donation to the MDA over $3.5 million. These funds will continue to support family services and research efforts as the fight against ALS continues.
"With still no cure in site, the money [Dutch Bros] raises through 'Drink One for Dane' provides the kind of hope which is invaluable for all those who are inflicted with ALS. This hope is what keeps our spirits high, giving us the opportunity to live a more normal life," said Dennis Westling, ALS patient.
###
About Dutch Bros Coffee
Dutch Bros Coffee is the country's largest privately held, drive-thru coffee company, with over 280 locations and over 7,000 employees in seven states.
Dutch Bros serves specialty coffee, smoothies, freezes, teas and a private-label, Dutch Bros Blue Rebel energy drink.
The rich, proprietary coffee blend is handcrafted from start to finish. Every ingredient is measured, every process timed, and every cup perfected.
With a mission to serve as a role model in the community and committed to doing the right thing, Dutch Bros donates over $2 million annually to nonprofit organizations and local causes selected by local owner-operators.
Dutch Bros Coffee is headquartered in Grants Pass, Ore., where it was founded in 1992 by Dane and Travis Boersma, brothers of Dutch descent.
To learn more about Dutch Bros, visit http://www.dutchbros.com, like Dutch Bros Coffee on Facebook or follow @DutchBros on Twitter.