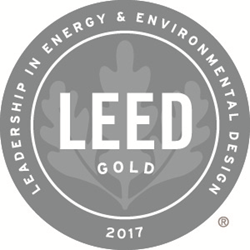 "We are excited about our new LEED certification as we are conscious of the impact we are making on the environment and are doing our part to be green and reduce our carbon footprint"
Washington, District of Columbia (PRWEB) May 25, 2017
Baywood Hotels is pleased to announce the dual-brand Hampton Inn by Hilton Washington, D.C. NoMa Union Station and Homewood Suites by Hilton Washington, D.C. NoMa Union Station have been awarded LEED Gold Certification by the US Green Building Council. The achievement is given for implementing practical and measurable strategies and solutions aimed at achieving high performance in: sustainable site development, water savings, energy efficiency, materials selection and indoor environmental quality. LEED, which stands for Leadership in Energy and Environmental Design, is the foremost program for the design, construction and operation of green buildings. LEED-certified hotels are resource proficient as they use less energy and water and diminish greenhouse gas.
"We are excited about our new LEED Gold certification as we are conscious of the impact we are making on the environment and are doing our part to be green and reduce our carbon footprint" says Chad Baylor, General Manager.
"The work of innovative building projects such as these DC hotels is a fundamental driving force in transforming the way buildings are built, designed and operated," said Mahesh Ramanujam, president and CEO, USGBC. "Buildings that achieve LEED certification are lowering carbon emissions, creating a healthier environment and reducing operating costs while prioritizing sustainable practices."
In addition to the greenery planted on the rooftop, the Northeast Washington, D.C. hotels participate in different projects like Clean the World and Lightstay. Recycling bins have been conveniently placed in guestrooms and common areas throughout the DC hotels. The Housekeeping team assists in separating recyclable material from waste. Guestrooms lights and AC are turned off to conserve power. Common areas throughout the hotel have timers set up to mirror guest activity to help sustain energy. LED lights and air filters are utilized and recycled after their use. Large-scale initiatives have been put into place as well. Hybrid water heaters enjoy up to 98% efficiency and natural gas is utilized for heating. Rainwater is collected to supplement irrigation in plant beds on hotel grounds.
For more information, please visit our Hampton or Homewood website or call us at 202-393-1001 or 202-393-8001.
*****
About Baywood Hotels
Established in 1975, Baywood Hotels, Inc. is a fast-growing and privately-owned hospitality management company, operating $1 billion in assets and employing over 1,800 associates nationwide. The company is headquartered in Greenbelt, Maryland, and has regional offices in Aurora, CO; Herndon, VA; Miami, FL; Pittsford, NY and San Antonio. In each of its regions, the private hotel ownership company is consistently recognized as an innovative leader in the hotel industry, focusing on product concept and development and the outstanding management of its assets. The focused vision, strong values and aggressive long-range strategy of Baywood Hotels has helped the company develop reputable and well-branded hotels in areas where Baywood has competitive expertise and partnerships. Baywood Hotels' portfolio includes well-known brands, such as Marriott, Hilton and InterContinental Hotels Group, as well as several independent brands. Contact us through Facebook or our website.
About the U.S. Green Building Council
The U.S. Green Building Council (USGBC) is committed to a prosperous and sustainable future through cost-efficient and energy-saving green buildings. USGBC works toward its mission of market transformation through its LEED green building program, robust educational offerings, an international network of local community leaders, the annual Greenbuild International Conference & Expo, the Center for Green Schools and advocacy in support of public policy that encourages and enables green buildings and communities. For more information, visit usgbc.org,